Bolle Mammoth Ski Goggle Information
Looking for the next big thing? Stop right here! A symbol of Bollé's design signature, the Mammoth is the largest fit of the range, providing a true wide field of vision. Equipped with articulated outriggers for a perfect fit with your helmet, the Mammoth offers symmetrical ventilations to optimize inside airflow and prevent fog. Available with Phantom and Volt
Flow-Tech Venting: Engineered venting systems in each frame promote directional airflow across the inside surface of the lens, reducing the potential for moisture build up and maintaining your pristine vision.
Double Lens: Creation of a dual-pane thermal barrier between the cold dry outside air and the moisture generated by intense activity prevents distracting condensation from forming
UV Protection: All Bollé® lenses block harmful UVA/UVB rays up to 400 nanometers.
Double Density Foam
Silicone on strap: The Siliconized strap helps provide total support for the goggle on the helmet.
Forestay System: Outrigger systems are designed for goggles to sit snugly on your face, while allowing the strap to interact independently with the latest helmet designs for an integrated fit.
Vented Lens: Engineered venting systems in each
Fit large
For a description of lens colors, see Bolle Lens Color Page.
A: 153mm, B: 88mm, C: 173mm D: 103mm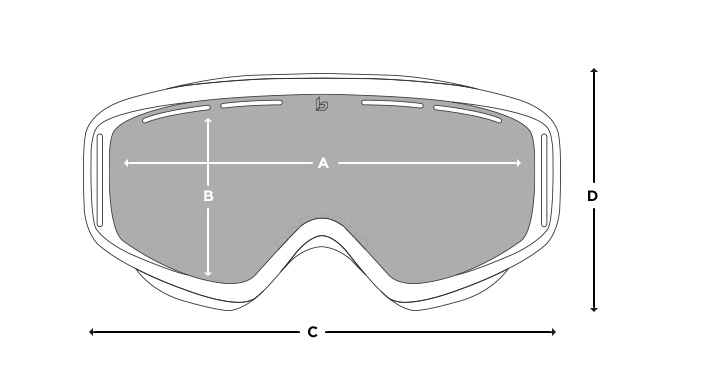 For a description of lens colors, see Bolle Lens Color Page.
Bolle Prescription Information
This frame utilizes a prescription adapter. This is a piece that carries the prescription and snaps in behind the front lens of the sunglasses. This allows higher prescription availability with the coverage of a large, wrap sunglass lens. It also creates a smaller prescription lens surface area to reduce weight and thickness of prescription lenses. Prescription range +6.00 to -8.00 total power (sphere plus cyliinder). Most popular prescription options listed. Additional coatings can be added on prescription information page. Since insert sits behind goggle lenses, only clear lenses are recommended. Estimated processing time: 5 to 7 working days. Coatings will add a week.