Bolle Nevada Ski Goggle Information
A bold style for this new Bollé cylindrical frameless goggle, NEVADA is the best choice of our athletes. Let's hit the mountains with this perfect combination between style and technology.
Double Lens: Creation of a dual-pane thermal barrier between the cold dry outside air and the moisture generated by intense activity prevents distracting condensation from forming
UV Protection: All Bollé® lenses block harmful UVA/UVB rays up to 400 nanometers.
Flow-Tech Venting: Engineered venting systems in each frame promote directional airflow across the inside surface of the lens, reducing the potential for moisture build up and maintaining your pristine vision.
Carbo Glas Anti-Scratch: A high-tech protective armor applied to the outer lens creates a shield to significantly reduce scratching, keeping your lenses and outlook as clear as a bluebird sky.
Anti-Fog lens.
Fit: Medium-Large.
For lens color information, see Bolle Lens Color page.
A: 171mm, B: 93mm, C: 172mm D: 96mm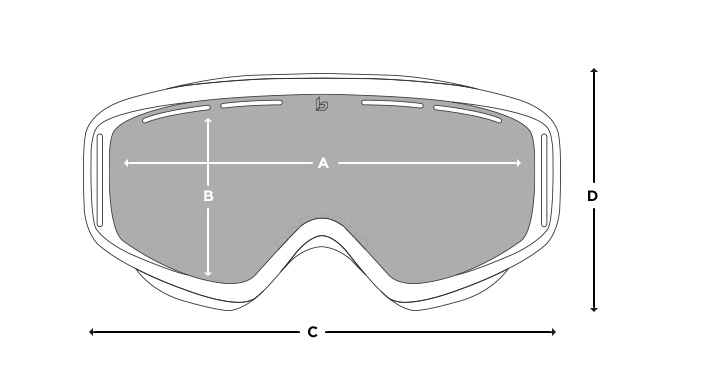 Bolle Prescription Information
This frame utilizes a prescription adapter. This is a piece that carries the prescription and snaps in behind the front lens of the sunglasses. This allows higher prescription availability with the coverage of a large, wrap sunglass lens. It also creates a smaller prescription lens surface area to reduce weight and thickness of prescription lenses. Prescription range +6.00 to -8.00 total power (sphere plus cyliinder). Most popular prescription options listed. Additional coatings can be added on prescription information page. Since insert sits behind goggle lenses, only clear lenses are recommended. Estimated processing time: 5 to 7 working days. Coatings will add a week.