Bolle Scarlett Ski Goggle Information
Great ski goggle for women with small to average size faces.
Featuring a custom design by Austrian alpine skiier Anna Fenninger, the Scarlett is Bollé's newest goggle for women. Not only is it stylish with a rose gold lens, but incredibly comfortable with its double layer face foam and Flow-Tech® venting system. Plus, with advanced ModulatorTM photochromic lens technology, you will have the best view on the peaks. Wide field of view spherical 180 degree view. Flow-tech venting. Triple layer face form. Silicone Strap. Helmet compatible. Flow tech venting. Double anti-fog polycarbonate lens.
Fit: Small to Medium
A: 166mm, B: 83mm, C: 196mm D: 87mm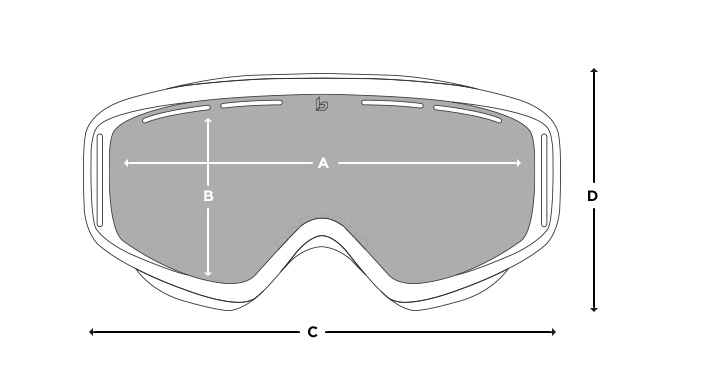 For lens color information, see Bolle Lens Color page.
Bolle Prescription Information
This frame utilizes a prescription adapter. This is a piece that carries the prescription and snaps in behind the front lens of the sunglasses. This allows higher prescription availability with the coverage of a large, wrap sunglass lens. It also creates a smaller prescription lens surface area to reduce weight and thickness of prescription lenses. Prescription range +6.00 to -8.00 total power (sphere plus cyliinder). Most popular prescription options listed. Additional coatings can be added on prescription information page. Since insert sits behind goggle lenses, only clear lenses are recommended. Estimated processing time: 5 to 7 working days. Coatings will add a week.