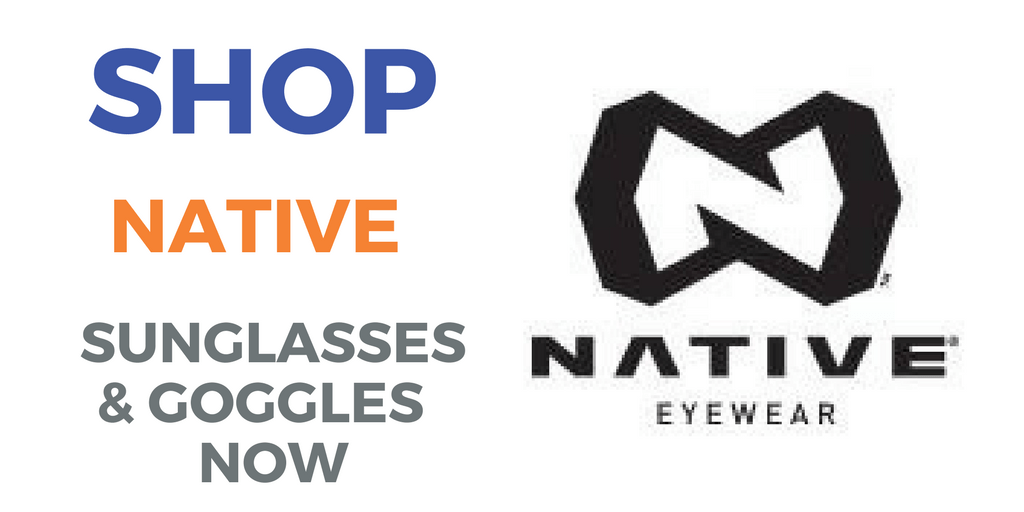 Native is the first and and only brand of all sports all polarized eyewear (ASAP™).
Benefits of polarization:
Let's face it--your eyes deserve the best and the best is a polarized lens. Native offers only Polarized Crystal Carbonate (PCC) lenses, which pass the rigorous ANSI Z80.3 tests for optical clarity and impact resistance while blocking 100% of the harmful UVA and UVB light. Additionally, your PCC lenses have the strongest hard coating available to protect against scratching.
Glare is reflected light that travels on a horizontal wave length. Virtually any surface can be a source of glare, including water, sand, pavement, ice and snow. All of Native's PCC lenses incorporate a "vertical" polarized filter which absorbs the horizontal light thus eliminating the glare. You're left with sharp, crisp, glare-free vision with increased contrast and depth perception.
We are so confident in our eyewear, they are backed with an unprecedented lifetime warranty (including scratched lenses) (see warranty card with product for information--covered under Native's warranty--not returnable to A Sight for Sport Eyes for lens warranty).
Now all Natives are interchangeable!
All Native sunglasses come with a Lifetime Warranty.
Native Eyewear's Premium N3 Polarized Lens: The most innovative and advanced polarized lens on the market. N3 lenses block up to 4x more infrared light than regular polarized lenses, pass ANSI Z87.1 testing, provide 100% UV protection up to 400nm, and by significantly reducing blue light and selecitively filtering UV, they deliver high contrast, crisp definition, and peak visual acuity. (Avaliable only in Odyssey Series styles)
Native Eyewear's Polarized Crystal Carbonate (PCC) Lens: Optical-quality, impact lenses block 100% of harmful UV light and eliminate glare for sharp, clear vision with increased contrast and depth perception. P.C.C. lenses provide outstanding vision and protection in any lighting condition. Polarized Reflex™ lenses provide superior glare reduction and enhanced styling.
Polarized Lens Colors:
| | |
| --- | --- |
| | Polarized Brown: 12 % Visual Light Transmittance (VLT). Suitable for all light conditions, especially moderate light as the brown lens will increase contrast and improve depth perception. Superior glare reduction. |
| | Clear Crystal: 98% Visual Light Transmission (VLT). Suitable for very low to no light conditions (night). |
| | Polarized Silver Reflex: 10% Visual Light Transmission (VLT). Suitable for extremely bright sunlight. Gray base lens with silver mirror. |
| | SportFlex: 60% Visual Light Transmission (VLT). Suitable for a wide range of "low light" conditions. e.g. cloudy, overcast, dusk & dawn. Rose base color. |
| | Polarized Gray: 9.5% Visual Light Transmission (VLT). Suitable for all light conditions, especially moderate to bright sunlight. Superior glare reduction. |
| | Polarized Copper Reflex: 16% Visual Light Transmittance (VLT). Suitable for moderate to bright sunlight. Rose base lens. |
| | Polarized Blue Reflex: 10% Visual Light Transmission (VLT). Suitable for extremely bright sunlight. Gray base lens with blue mirror. |
| | Polarized Brown Reflex: 10% Visual Light Transmission (VLT). Suitable for moderate to bright sunlight. Brown base lens with Bronze mirror. |
| | Polarized Copper: 18% Visual Light Transmission (VLT). Redfine the concept of quality of an "everyday lens", enhancing contrast and color. |
| | |