Ocean Chameleon Sunglasses Information
Ocean has developed these surf polarized sunglasses focusing on the most extreme conditions in which these activities take place. They have ATOM system polarized lens, which reduce the harmful effects on the eyes when the sun is reflecting off the sea, and they are floating sunglasses, they do not sink, in water:
Also popular for fishing. In addition, these surf polarized sunglasses have a non-slip material and floats. All this means you can go fishing with confidence and safety: you will not even feel you are wearing your Ocean! Protection according to CE EN 1836 and USA ANSI Z80.3

Lens: Category 3 Smoke, 100% UV Protection, Polarized with ATOM system, Hydrophobic coating-water repellent Anti-Impact protection, 8 Base wrap
Frame: Polycarbonate, lightweight material. Nose pads for comfort
Strap: Adjustable elastic strap with floaters.

Package includes nosepad/tips/foam and strap.
FRAME: TR90. Floaters in the arms. Lightweight material. Non-slip rubber tip arms. Nose pads for comfort. STRAP: neoprene removable
lens width: 70 Lens height: 40 Bridge width: 11
Ocean Prescription Information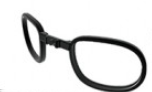 This frame utilizes a prescription adapter. This is a piece that carries the prescription and snaps in behind the front lens of the sunglasses. This allows higher prescription availability with the coverage of a large, wrap sunglass lens. It also creates a smaller prescription lens surface area to reduce weight and thickness of prescription lenses. Prescription range +6.00 to -8.00 total power (sphere plus cyliinder). Most popular prescription options listed. Additional coatings can be added on prescription information page. Since insert sits behind sunglass lenses, only clear lenses are recommended. Estimated processing time: 5 to 7 working days. Coatings will add a week.