Proguard Eyeguard Sports Glasses Information
Sizing: Kids to adults
Unisex Shape.
Meets or exceeds ASTM F803-03 impact resistance for several sports. Also meets EN-166 (Europe) and JIS T8147.5.1d (Japan) Safety standards.
Strong and durable polycarbonate frame with polycarbonate lenses, interior side cushion, nose padding and special lens fixation for safety.
6 Base curve for a wide range of prescriptions
Available in 4 sizes to ensure optimum fit
Comes with plano, optical quality polycarbonate lenses, semi-rigid case, and cleaning cloth
Polycarbonate UV 400 Lenses
Adjustable Elasticneoprene strap is washable
No metal parts or sharp edges
Anti-slip earpiece is flexible and ergonomic form fitting. Additional fixation with elastic band
Anti-allergenic nose pad
Available with prescription lenses
Available in earpiece or full wrap strap versions (as listed)
Optional wind guard or EVA guard available (sold separately). The Wind Guard shields the eyes from rushing air and debris that threaten safety and performance. The sweat absorbing sponge lining can be used for skiing, cycling skateboarding and certain extreme sports. The waterproof EVA lining (rubber) designed for motorcycling, sailing, surfing, wakeboarding and other water sports. Note: Not available in XL size right now.
Sports: Basketball, Handball, Paddleball, Racquetball, Soccer, Squash, Tennis and other ball/stick sports not requiring independent certification.
Sizes:
Small : Fits kids 6-10 (A: 48, DBL: 18) (Item #EG-S 1010 with earpieces or #EG-S 1011 with full wrap strap)
Med: Fits kids 11-15 (A: 52, DBL: 18) (Item #EG-M 1020 with earpieces or #EG-M 1021 with full wrap strap)
Large: Fits ages 15 to adult (A: 55, DBL: 19) (Item #EG-L 1030 with earpieces or #EG-L 1031 with full wrap strap)
X-Large: Fits Large Adults (A: 57, DBL: 19) (Item #EG-XL 1040 with earpieces or #EG-XL 1041 with full wrap strap)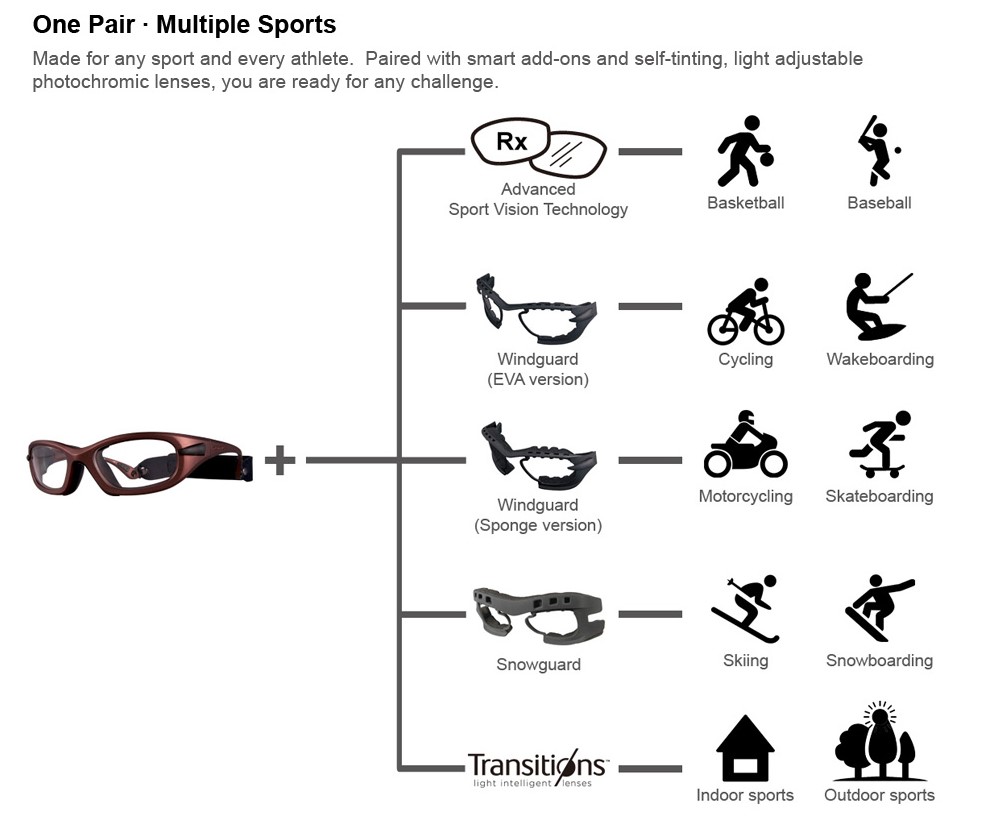 Progear Prescription Information
Prescription lenses available. Prices quoted are for lenses made with Progear's lab. For higher prescriptions and for other lens options not listed including bifocals or progressive lenses, see prescription information page. Single vision polycarbonate prescription lenses quoted for prescriptions +6.00 to -6.00 with up to 2.00 cylinder (higher powers available for an additional charge). For powers above 8.00, please call. Processing time: 7 to 10 working days. Coatings will add extra time.