Progear Sportshades Racer Sunglasses Information
Interchangeable 6 Base lenses using an optical direct in fit adapter (nylon cord), not snap inside. Adjustable endtips. Internal spring hinge. Polycarbonate (PC) or NXT Trivex brand lenses.
Eyesize: 72/12 Dimensions: A:72, DBL: 12
PROGEAR PRESCRIPTION INFORMATION
Multiple prescription options available. Prices shown for all options are for single vision (SV) prescription lenses only. Progressive lenses are available in store only or see our prescription information page for other options for obtaining progressive lenses.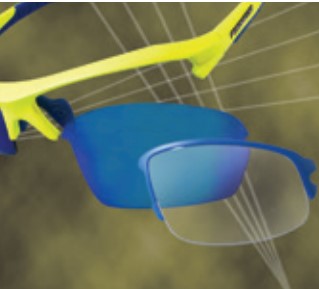 Direct Adapter Maximum prescription range -7.00 to +5.00 total power (sphere plus cylinder). Uses an adapter that replaces existing lenses (not snap in behind). Lens is held by a nylon cord giving the look of direct in but allowing for higher prescriptions. Est. Processing time: 7 to 10 business days. Coatings add an extra week.