Rudy Project Cutline Information
Cutline performance sunglasses for cycling, mountain biking, gravel riding, and running combine wide, wraparound rimless shield lenses with renowned Rudy Project state-of-the-art eyewear technologies. Its modular features, RX adaptability, and edgy styling make the Cutline the eyewear choice for the 2020s.
Features:
Quick Change Interchangeable Lenses: Changing your eyewear lens has never been faster. Featuring the most intuitive interchangeable lens system ever, Cutline lets you swap lenses without hassle. Simple pressure on the two side buttons release the temple from the lens. It's that easy.
Powerflow Total Comfor Fit
Adjustable temple tips and nose pieces for a custom fit
Enhanced ventilation: To accelerate heat evaporation, Cutline features our proprietary Power Flow System. The combined action of the 4 vents on the lens along with the vents on temples and bumpers enhances air circulation to avoid the risk of fogging during the activity.
Bumpers: The Cutline proprietary removable bumpers enhance rider safety by preventing contact or injuries between lens and face. Cutline features 4 different bumpers configurations to meet riders needs: fully loaded 4 bumpers option, 2 lower or two upper bumpers, or the possibility to wear the sunglasses without bumpers. Cutline bumpers, enhancers, nosepads and temple tips are easily interchangeable offering multiple color options to customize your eyewear.
For Rudy Project Lens color descriptions and prescription technology, see Rudy Project brand page.
Eyesize: 141mm. A141mm, B: 62 DBL: 16 TL: 128 Weight: 1.28oz, 36g

Note: Unable to ship outside the US, Canada and Caribbean.
Rudy Project warranty not honored if sold an unauthorized price. For price matching, please call or email.

Rudy Project Prescription Information
Prices shown for all options are for single vision (SV) prescription lenses only. Progressive lenses are available in store only or see our prescription information page for other options for obtaining progressive lenses.

RX insert. Maximum prescription range -7.00 to +4.00 total power (sphere plus cylinder). This is a piece that carries the prescription and snaps in behind the non-prescription Rudy Project lenses. This allows you to change out the front lens for various light conditions while only purchasing one pair of prescription lenses. This is the most economical way to go and is a good option for contact lens wearers who only need to occasionally insert the prescription adapter.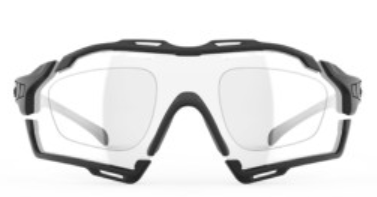 Cut Outs Direct In: Allows for prescription lens insertion into the shield. There is a "cut out" in the shield where the prescription lens in installed. RX range +4.00 to -5.00.