Rudy Project Stardash Information
The STARDASH is a multi-purpose functional sunglass built to protect the eyes from sun and weather, all in a timeless style.
Weighing in at just 39 g, this model not only features an eye-catching design inspired by the iconic teardrop look, but is enriched with performance features that ensure perfect comfort for the most daring explorers and those seeking elegant style.
Designed to exceed the specific lighting standards of category 4, this model guarantees perfect and wide vision thanks to its high-protection lenses. In fact, Stardash is available with Hi-Altitude category 4 lenses, and introduces the new ImpactX® Photochromic 2 Laser Crimson lens. This new lens provides protection for category 2 light standards in non-active mode, up to category 4 standards when fully activated by the UV rays.
In addition to these particularly technical lenses dedicated for the Hi Altitude, Stardash is also available with ImpactX 2 Laser Brown lenses, ideal for gravel, and RP Optics Multilaser mirrored lenses.
With this model, the eyes will also be protected thanks to the removable Side Shields, which are ideal for protecting you not only from annoying sun rays that can hit you from the side, but also from all disturbing elements, such as wind or dust, during mountain hikes or bike rides.
Stardash turns out to be a decidedly comfortable and above all stable pair of glasses. The fully adjustable nosepads and temple tips guarantee a high level of comfort and give all explorers and athletes the opportunity to completely customise the fit.
The comfort experience of this model is also enhanced by the Power Flow system. This system of micro air intakes in the upper part of the frame front ensures a constant air flow inside the glasses, thus minimising the risk of fogging during sporting activity.
Stardash is distinguished by a frame made of Rilsan® Clear material. This sustainable, vegetable-derived and renewable polymer was developed by Arkema to guarantee the highest standards of performance, durability, lightness, flexibility and impact resistance. Rilsan® Clear is produced from castor oil produced in the Gujarat region of India, which is refined in several steps to create the raw material for the polymer.
The properties of Rilsan® Clear are lightness, flexibility and resistance to shocks and chemicals, making this material perfect for sports use.
Rilsan® Clear represents a crucial evolution in Rudy Project's journey towards sustainability as it is a BPA-free material with the highest percentage of vegetable content on the market.
- Rilsan Material
- Quick Change Interchangeable Lenses
- Removable Peripheral Side Shields
- Adjustable Anti-Slip Nosepiece
- Adjustable, Anti-Slip Temples
- Powerflow Vent Ports to Eliminate Fogging
- RP D Centered Optics
- Safety Hinges
- Microfiber Case
- Hard Protector Case
- 3 Year Manufacturer Warranty
- Lifetime Replacement Lens Guarantee
Click links for descriptions of Rudy Project Lens Colors and Rudy Project Prescription technology.
Eyesize: 70/14. Dimensions: A: 63mm, B: 53mm, DBL: 14mm Weight: 1.38 oz/39g

Note: Unable to ship outside the US, Canada and Caribbean.
Rudy Project warranty not honored if sold an unauthorized price. For price matching, please call or email.

Rudy Project Prescription Information
Multiple prescription options available. Prices shown for all options are for single vision (SV) prescription lenses only. Progressive lenses are available in store only or see our prescription information page for other options for obtaining progressive lenses.
Option #1: RX insert (full rim insert or Rimless insert). Maximum prescription range -7.00 to +4.00 total power (sphere plus cylinder). This is a piece that carries the prescription and snaps in behind the non-prescription Rudy Project lenses. This allows you to change out the front lens for various light conditions while only purchasing one pair of prescription lenses. This is the most economical way to go and is a good option for contact lens wearers who only need to occasionally insert the prescription adapter. The full rim is more solid design (less fragile). Eyesize: A: 43, B: 32. The rimless adapter is less noticeable but is held with a wire so may be more fragile. Eyesize: A=44, B=33. There is also a full rimmed adapter designed for progressive or bifocal lens wearers (deeper top to bottom to allow for progressive lens heights). Eyesize: A=47, B=36 (note we don't sell bifocal/progressive lenses online). Est. Processing time: 5 to 7 business days. Coatings add an extra week.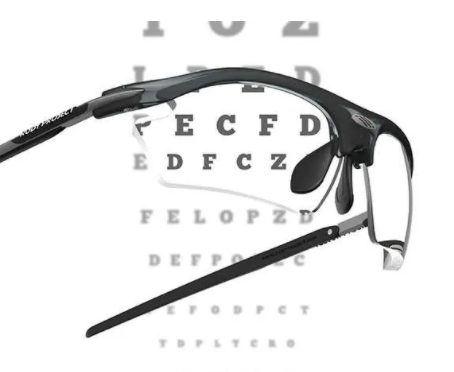 Option#2: "Direct In" is where the prescription is made just like the non-prescription lens, direct into the frame. Direct in lenses feature Rudy Project's revolutionary ImpactRX™ program with Eyepoint freeform technology giving a wider field of vision and virtually eliminating distortion issues associated with wrap lenses. See Rudy Project technology page for more details. Est. Processing time: 2-3 weeks.
Note: Rudy project no longer allows lenses only to be purchased. If you already have the frame, you can purchase lenses only but you will have to mail your frame in to have prescription lenses cut to your frame. If we make lenses only and the lenses don't fit your frame, there will be a charge to remake lenses to fit. See "Lens Color" tab for full lens color descriptions.
Available in 2 eyesizes. We will make the largest eyesize we can based on prescription parameters unless you specify otherwise in the comments section.Progressive parameters may be less depending on all the numbers of the prescription. Call for details.
| | |
| --- | --- |
| Single Vision | 70 Eyesize |
| PD=62 to 66 | -2.00 to +1.75 |
| PD=67+ | -3.00 to +2.00 |
Get a $50 rebate on prescription lenses from Rudy Project here.