Masks are used for scuba diving and snorkeling, but many do not know how to choose the best mask, and that masks are also available with prescriptions lenses. Those that do wear a prescription often engage in these activities losing something from their experience because of their inability to see all of the underwater life in true focus. Here is what to look for:
Proper Fit: The goggle must create a proper seal to remain water- tight. The best way to make sure a goggle fits is to hold the mask up to your face and take a deep breath in. Let go of the mask, and the mask should "stick" to your face. If it doesn't then it is not creating a proper seal.
Color Perception: As you increase in depth, you lose some of the visible light in the red and violet ranges. Special lens tints can help compensate for this color loss and give you the brightest images possible at lower depths.
Prescription Lenses: If you wear a prescription, lenses with your prescription in it can be mounted inside any mask. However, the important thing here is to make sure that the person filling your prescription takes into consideration a variety of your needs. If you are a snorkeler, you probably just need to see distance. Therefore, a distance only prescription should be fit in your mask. If you are a diver, though, you may need both distance correction to see the underwater life, and the near prescription to read you gauges. Therefore, depending on your prescription, a bifocal or truncated lens can be used. Also, if you have a high prescriptions, other factors, such as power differentials need to be considered since the prescription lens sits so far from you eye itself. Make sure you inform the person fitting you with the prescription with your exact needs and the distances that you need to see most so that the lenses you are fit with match what you want to see. Dive masks can come either with pre-made lenses that correct close to your prescription, not exact (distance only). This is good for the occasional diver and those with low astigmatism. Custom made lenses made to your exact prescription are better for the more advanced diver, or those who need the astigmatism corrected for good vision.
<Lens Material: Make a prescription lens out of glass. Even though it is heavier, it is more scratch resistant, and bonds better to the faceplate of the mask. Because diving takes place in sandy environments, you will appreciate the extra scratch resistance. However, plastic lenses are much lighter and with coatings can be scratch resistant as well.
Contact Lens Wearers: If you wear contact lenses under your mask for diving, you need to make sure you blink a lot. Excessive starring can cause bubbles to form underneath your lenses and which may cause minor discomfort and temporary blurring of vision.
Underwater Photographers: Underwater photographers may benefit from a black skirt over a clear skirt to prevent unwanted light coming in the mask to disturb viewing through eye piece.
Recommended Styles: High quality masks such the Tusa masks will offer good fit, wide peripheral vision, and long lasting quality.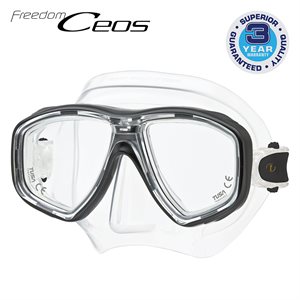 For color enhancing masks, check out SeaVision's patented color enhancing masks.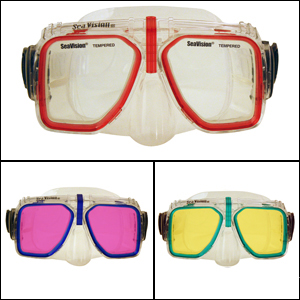 For prescriptions, the Tusa come with premade step diopter lenses or some styles can be custom made with prescription lenses for exact correction. SeaVision' masks come custom made only. Other options for prescription include the Hilco dive mask and Aquaviz Masks that come with a prescription adapter that snaps inside the mask and carries custom prescription lenses. This is the most economical prescription option. Custom prescription lenses can also be cut and glued into any dive mask including your existing mask (mask must be mailed to us for this). Once lenses are glued in, though, they are not removable. Email or use online chat for pricing information.