Spy Marshall 2.0 Snow Goggle Information
The make-no-apologies Marshall has gotten a major attitude adjustment. We've taken the revered goggle that everyone knows and loves and added a toric lens that delivers insane visibility. A wider strap creates an improved fit, while SPY+'s Rise Ventilation System creates a vacuum effect that pulls hot air from behind the lens and quickly releases it to be sure your vision stays free of fog throughout your ride. Built with partially recycled materials, the Marshall 2.0 is a universal fuss-free goggle with legendary style.
Our patented HAPPY™ Lens Tech enhances color and contrast and is scientifically tuned to boost mood and alertness, providing a visual experience unlike anything else
Anti-fog ARC® toric dual-injected lens provides increased optical clarity
Anti-scratch coating provides enhanced impact protection
100% UV protection shields your eyes against damaging high-altitude sunlight
Composed of 30% durable eco-friendly materials
RISE™ ventilation system utilizes the Venturi effect to draw air through subframe vents above the goggle, creating a vacuum that pulls hot air from behind the lens
Triple-layer Isotron™ face foam with moisture-wicking Dri-Force™ fleece provides comfort while drawing fog-causing sweat off your face
Compatible with the most popular helmets on the planet
Silicone-lined XL (45mm) strap prevents the goggle from slipping on your helmet or headwear
Sizing: A: 159 B: 76 C: 169 D: 93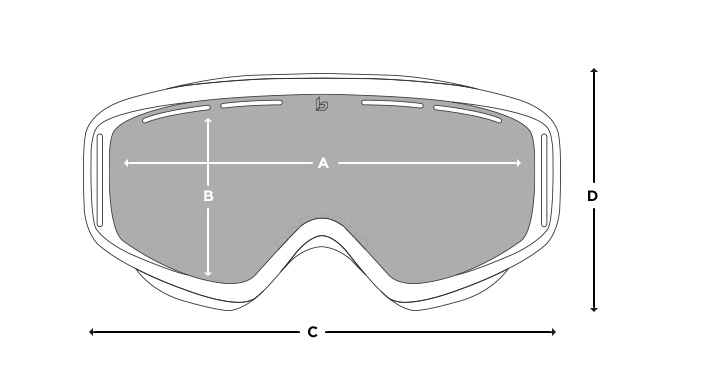 For a description of lens colors, see Spy Ski Goggle Lens Color Page.
Spy Prescription Information
This frame utilizes a prescription adapter. This is a piece that carries the prescription and snaps in behind the front lens of the sunglasses. This allows higher prescription availability with the coverage of a large, wrap sunglass lens. It also creates a smaller prescription lens surface area to reduce weight and thickness of prescription lenses. Prescription range +6.00 to -8.00 total power (sphere plus cylinder). ;Most popular prescription options listed. Additional coatings can be added on prescription information page. Since insert sits behind goggle lenses, only clear lenses are recommended. Estimated processing time: 5 to 7 working days. Coatings will add a week.