Tifosi Alliant Sunglasses Information
Sleek angles and premium materials define Alliant as a performance sunglass for cyclists, runners, and endurance athletes. Vented lenses improve airflow while the adjustable ear and nose pads of hydrophilic rubber increase grip as you sweat ensuring a perfect, stable fit.
TACTICAL SPECIFICATIONS
Each Tifosi Tactial model meets or exceeds Z87.1 Safety Standards for impact, optical clarity, and eye coverage.
Hydrophilic rubber ear and nose pieces are adjustable to provide a no-slip custom fit.
Non-reflective matte black Grilamid TR-90 NZZ frame is virtually indestructible.
Fits large to XL
Weight: 30g
Eyesize: 135mm temple to temple 45 B (top to bottom)
TIFOSI PRESCRIPTION INFORMATION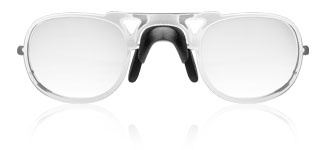 Prescription adapter available. Prescription adapter carries prescription lenses and snaps inside behind sunglass lenses. This allows you to interchange the front lenses for various lighting conditions and activities while only purchasing one pair of prescription lenses. Also allows for higher prescription capabilities without wrap around distortion. Prescription prices shown are for lenses up to 6.00 diopters with up to 2.00 cylinder. Higher prescription subject to a power charge. For additional prescription lens information and options, visit prescription information page. Prices quoted for single vision lenses. See prescription information page for bifocal or progressives. Processing time: 5 to 7 business days. Coatings add a week.