Tusa Freedom Elite Dive Mask Information
Introducing TUSA's newest mask with Freedom Technology: Freedom Elite, M-1003. Freedom Elite has a single lens that offers a clear, wide view to the underwater world.
Wide field of view single lens
Equipped with Freedom Technology
180° Rotational Buckle System
Medium-large frame with minimal internal volume
Five-position strap angle adjustor for micro-adjustment
Round edge skirt
3-D mask strap
Colors: Black (BK), Bougainvillea Pink (BP), Cobalt Blue (CBL), Fishtail Blue (FB), Flash Yellow (FY), Light Blue (LB)
Black Silicone:Black (QB-BK), Hot Pink (QB-HP), Fishtail Blue (QB-FB)
Tusa Prescription Lens Options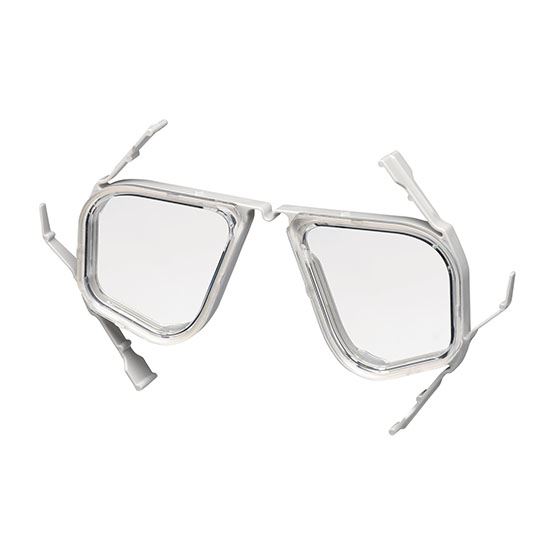 The UA0510 corrective lenses with Universal Optical Frame are for all TUSA Sport masks. Available with a frame and pair of same diopter lenses -2.0, -3.0, -4.0, -5.0,.
For custom prescription lenses, we use a generic prescription insert that suction cup inside. Prescription lenses are an add on. Most popular prescription lenses listed. Prescription lens prices quoted are for a pair of lenses with prescriptions up to 6.00 diopters cylinder, up to 2.00 diopter cylinder. Higher prescriptions will incur additional power charges. For other lens options such as high index lenses (recommended on powers over 8.00 as thick lenses may push against facial bones), and more, see prescription information page. No prescription limitations. Estimated time frame for prescription: 5 to 7 working days. Anti-fog coating includes heavy duty scratch coating and is recommended on this product. Fog coatings will add 3-5 days to processing time.