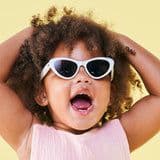 We are thrilled to introduce you to Babiators, the ultimate sunglasses for your little ones! Made for parents, by parents, Babiators are the perfect protective sidekick for your child's carefree outdoor adventures.
We understand the importance of safeguarding your child's delicate eyes from harmful UV rays, which is why each pair of Babiators features UV400 lenses. These lenses provide 100% protection from UVA and UVB rays, keeping your child's eyes and surrounding skin safe from the sun's harmful effects.
But protection is just the beginning. Babiators sunglasses are designed with both durability and style in mind. We know how rough kids can be on their accessories, so we ensure our sunglasses withstand every adventure.
Not only are Babiators durable, but they're also incredibly stylish. Protective eyewear should be loved by kids and appreciated by parents. Our sunglasses are designed with gentle materials for all-day comfort, and we offer a wide array of styles to choose from. From classic to trendy, Babiators help your child look and feel their best while staying safe in the sun. After all, protective eyewear is only effective if your child will wear it!
Furthermore, we understand that safety is a top priority for parents. That's why Babiators sunglasses are BPA-free and undergo rigorous testing to ensure they're safe for your little ones to wear, touch, and, yes, even chew on. Did we mention that some styles are also available with prescription lenses!!
It's time to give your child the ultimate sunglasses experience with Babiators. Let's make outdoor fun, carefree, and stylish!