Do you love fishing? If so, then you know that having the right equipment is essential for a successful day on the water. Aside from your fishing pole, one of the most important pieces of gear is polarized sunglasses. Not all sunglasses are created equal – in fact, some can actually hinder your ability to catch fish! In this blog post, we will discuss how to choose the best polarized sunglasses for fishing. We'll cover everything from lens color to frame style, so you can choose the right pair.
What Are Polarized Sunglasses?
In a nutshell, polarized sunglasses are designed to reduce glare. Glare can come from a number of sources, including the sun, water, sand, asphalt, and metal surfaces such as your car hood when driving. Polarized lenses are effective at reducing this glare. When glare is reduced on the water, it allows you to see more clearly and makes it easier to spot fish.
What To Look For In Polarized Sunglasses For Fishing
There are 3 main things to consider when buying polarized fishing sunglasses:
Material
Frame style
Lens color
Material
When choosing polarized sunglasses for fishing, it is important to consider the material of the lenses. Glass lenses are durable and provide good clarity, but they can also be heavy and can break if dropped or hit. Polycarbonate lenses are lighter weight and less likely to shatter than glass, but they may not be as optically clear. Trivex is also popular with the light weight and impact resistance of polycarbonate, but with better optical clarity.
Frame Style
There are three main frame styles for polarized sunglasses: wraparound, traditional, and sports. Wraparound frames offer the most coverage and are ideal for fishing in sunny conditions. Traditional frames have a more classic look and are good for all-around use. And finally, sports frames are designed for active lifestyles. They may offer a variety of wind and water shields and offer the most protection from the sun and wind.
Lens Color
The color of your lenses for your fishing sunglasses can also play a role in how well you can see fish. Lenses that are light green or amber work best in lower light conditions like overcast days, while darker lenses like gray, brown, or green/gray are better for fishing in bright light conditions.
The type of water body you are fishing in also matters. For shallow water fishing, brown, amber, or copper based lenses are best. For deep water fishing, gray or gray green lenses are best.
Our Favorites
Sporteyes.com offers many fishing glasses, but here is a brief list of our top five favorites.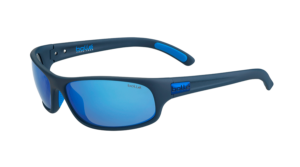 The Bolle Anaconda has a nice wrap frame that hugs your face keeping the sun and wind out of your eyes. The polarized Off-Shore Blue is a gray lens with a blue flash mirror that fights glare in bright marine conditions. Great for medium to large faces.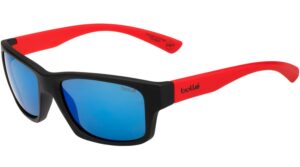 The Bolle Holman has the more traditional sunglass frame, as opposed to a wrap around style. These sunglasses are designed to float if they fall in the water (non-prescription only). They offer standard polarized brown or gray lenses, and also offer non-polarized Photochromic lenses which change from clear to dark depending on the light.
If you have a high prescription, these are a good choice due to the flatter style of lens.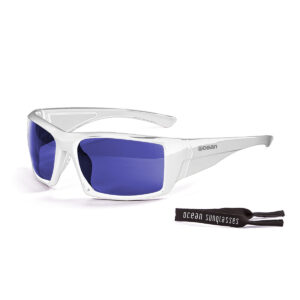 Ocean's line of floating sunglasses is made for water lovers – whether you are kite sailing, paddle boarding, or fishing in the ocean. With a nice assortment of colorful frames and polarized lenses, this is a great option for everyone.
Also available in prescription.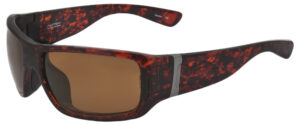 Great Uni-sex frame for larger heads available in black, olive, or tortoise frame. It's easy to swap out these magnetic lenses so you always have the right sunglasses for different conditions.
Each set comes with one polarized lens (grey or amber) and one low light Amber Rose lens and is available in prescription or non-prescription.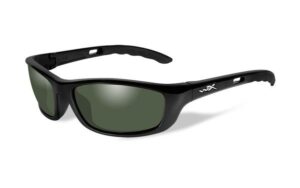 Wiley-x is a great company that specializes in tactical and military grade glasses. Among their offerings is the P-17 which is great for deepwater fishing with its Polarized Smoke Green lenses. It exceeds the ANSI Z87.1-2003 High Velocity Standard so it is sure to withstand anything coming its way.
Available in prescription or non-prescription.
Final Thoughts
Now that you know what to look for in polarized sunglasses for fishing, it's time to find the perfect pair for you! Keep these tips in mind when shopping and you'll be able to choose a pair that will help you catch more fish. Remember, always consider the conditions that you will be fishing in and the type of fishing that you are most likely to engage in. In some cases, it's a good idea to buy multiple pairs of fishing sunglasses so you have different options for different seasons or locations.
You can browse a full range of the best polarized sunglasses for fishing on our website. Take a look and pick up your pair today and you'll see a huge improvement next time you are out on the water!