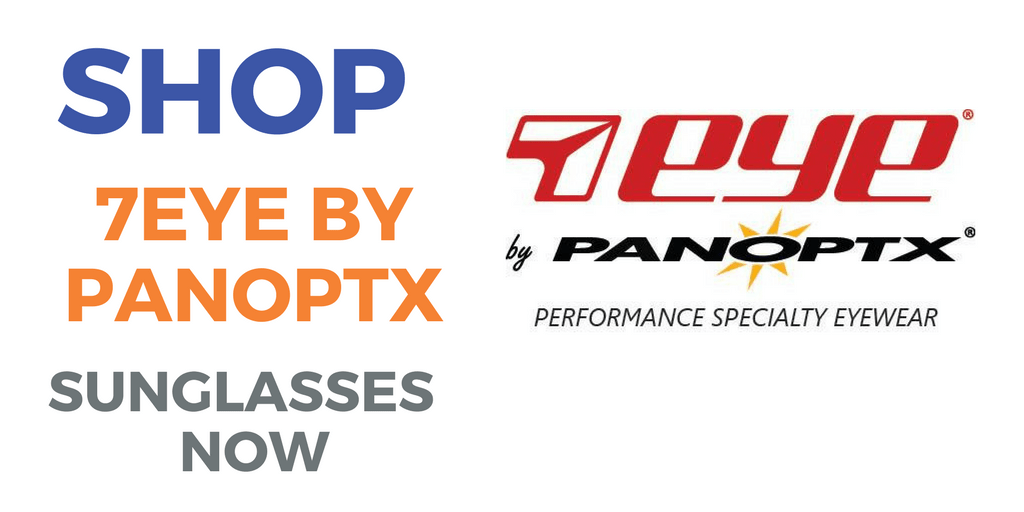 Panoptx is now 7-Eye.
Don't let dry eye symptoms limit your lifestyle. No matter how mild or severe your dry eye symptoms are, you can benefit from the special protection provided by 7EYE Like old-fashioned moisture chamber goggles that have been prescribed for years for patients with dry eye symptoms, glasses from 7EYE help retain corneal moisture and block evaporation, but they do so much more. The precise fit and filtered vents of our patented Orbital Seal know down wind, dust, glare, allergens and other airborne irritants, so you're free to live your life to the fullest.
There are many factors that can influence the onset and aggravation of dry eye symptoms, not the least of which is the aging process itself. It's an inevitable fact that as we age, our eyes lose some of their natural lubricating ability. Prolonged contact lens wear can also induce dry eye symptoms, particularly at the end of the day. Other candidates for extra dry eye protection can includepost-LASIK patients, allergy sufferers and people who take certain medications. Whatever the origin of your dry eye symptoms, wearing 7EYE, in conjunction with other therapies, can help alleviate the discomfort caused by dry eye.
Dry Eye Accelerators
People who engage in certain sports or recreational activities accelerate or exacerbate the conditions that lead to dry eye (and other eye afflictions). In the Definition and Classification of Dry Eye disease: Report of the Definition and Classification Subcommittee on the International Dry Eye Workshop (2007), "high wind velocity" is cited as a principal environment factor contributing to dry eye. This means motorcyclists, skiers and others who expose themselves to high wind are compounding their risk of experiencing dry eye symptoms.

· Wind: Given the harmful effects that wind has on both visibility and eye health, every motorcyclist who cares about their eyes should wear 7EYE. The orbital seal locks out wind, allergens and other airborne irritants and holds moisture in. Super-strong lenses powered by NXT add to the protection package.
· Snow: Skiers and other who enjoy winter sports expose themselves to the risk of snow blindness due to the amount of reflected glare rebounding off the snow. Only eyewear that completely blocks peripheral glare from all angles protects the eye from this most pernicious form of UV radiation.
· Water: Fisherman know how reflective glare inhibits visibility. Eyes fatigue faster and the visual acuity required to fish effectively diminishes over the course of the day. Polarized lenses cut the glare, but can't block the more potent and damaging light t hat attacks the eyes from the sides.
· Sun: If you are a contact lens wearer, an allergy sufferer or take certain prescription medications, you don't need to be in the wind to experience dry eye symptoms. No matter what aggravates your dry eye symptoms, adding 7EYE to your routine therapy will reduce irritation and increase comfort.
Seal Protection Factor (SPF)
7Eye offers two distinct solutions for dry eye sufferers, depending on the severity of their symptoms or the environment the eyewear is needed for. People with stage one or two of Dysfunctional Tear Syndrome (as defined by the Delphi panel and the 2007 DEWS report) can benefit from our SPF75 models, while people with more severe dry eye symptoms, including stage three and stage four DTS patients, may prefer the more complete protection of a SPF100 frame.
Panoptx Warranty: Panoptx eyewear is warranted against defects in material or manufacturing for one year from the date of purchase. Lenses are not warranted against scratches. Please read and follow the lens care instructions.

7Eye by Panoptx AirShield SPF100 Series
AirShield, with a Seal Protection Factor of 100, is made to provide maximum protection. Its patented Orbital Seal™ uses filtered vents to manage airflow and create a comfortable environment for your eyes. A complete seal for when your eyes need total protection. AirShield's rugged, non-air-permeable construction blocks wind, glare and airborne irritants from interfering with your vision. 100% seal. Its fast-drying fabric overcoat quickly absorbs and wicks away moisture. Foam is removable on most styles. Filtering vents manage air circulation and reduce fogging.
| | |
| --- | --- |
| | |
If you wear ordinary sunglasses, your eyes probably aren't getting the protection they deserve. With 7eye's SPF75 models, you get substantially more protection from wind and peripheral glare than ordinary sunglasses provide. Your eyes will love you for it. Partial seal that helps knock out wind and lock out glare. Ideal protection for contact lens wearers. TPR-Thermal Plastic Rubber air dam won't irritate skin or interact with sunscreen.

With our new 7EYE Active lifestyle collection you can now get our incredible optical-grade lenses in a sunglass for those times when high performance protection against wind and dust isn't required. High-wrap eyewear that minimizes peripheral glare. Designed to deliver optimal protection in everyday eyewear. Offers a variety of high quality contemporary styles. Treated with oleophobic topcoat that allows for better vision by lessening smudges. This lens coating allows for easier lens cleaning.
**Prescription Lens Prices

Prescription lenses are custom made from Panoptx. Prices are for prescriptions ranges +3 to -3.00 and less than 1.00 astigmatism (cylinder or second number of prescription). in most frames. See individual frame page for further prescription ranges. Some frames can be made +3 to -7.00 with insert for an additional $30. Prescription lenses can also be made using A Sight for Sport Eyes lab for a lower cost. Click below for custom lens options.
Panoptx/7Eye Specialty Lens Colors
Photochromic: NXT is the most advanced photochromic sun lens material ever made, creating lenses like our 24:7 Original and Contrast with a broad transmission range, rapid activation and exceptional durability. Both new 24:7 lenses darken and fade in a hurry, and they keep on changing after other brands' photochromic films stop working. 24:7 lenses in NXT® are also virtually shatterproof, with a lifetime warranty against breakage.
SharpView™ lenses have all your needs covered with 8 different lens options. SharpView™ lenses are tapered and optically de-centered;
the lens eliminates distortion, preventing distracting magnification and provides enhanced visual clarity.
All SharpView™ PC lenses have an anti-fog coating to prevent any fogging while wearing our dry eye eyewear.
SharpView™ PC lenses are 100% UVA+UVB protected.
SharpView™ Clear

SharpView™ Clear lenses are ideal if you are wearing your eyewear primarily indoors. Whether you are in the office or lounging around the house, our clear lenses give 100% UVA+UVB protection and are optically correct providing you with ultra clear vision

SharpView™ Gray

Perfect for keeping your eyes comfortable in full sun conditions. This lens helps prevent eye fatigue and provides you with the truest color perception. Whether you're out window shopping, strolling the farmers market or relaxing on the beach, these lenses can help you look and see your best.

SharpView™ Amber/Copper

Great at cutting out haze, improving depth perception, and enhancing the color contrast to your surroundings. The Amber lens is ideal if your planning on wearing your eyewear while doing activities in which focus is against green grass or blue skies.

SharpView™ Polarized Amber/Copper

Provides a beautiful warm tint, excellent for varied, everyday conditions. The lens improves visual definition while providing contrast to make colors pop and depths stand back. Polarized lenses are the right choice for cutting out glare while doing outdoor activities like driving, boating, golfing, tennis or conquering that new hiking trail.

SharpView™ Polarized Gray

Polarized gray lenses provide extra protection against glare-causing reflections of light from water, sand, snow, concrete roadways and other reflective surfaces. The polarized gray lens offers the highest available light reduction for the richest colors and sharpest contrast. Also a great solution for mild light sensitivity while outdoors.

Contrast™ Light Brown to Dark Brown (Light Adjusting Transition)

This Photochromic lens transition from a pale light brown to a dark brown tint, perfect for everyday conditions. The lens improves visual definition while providing contrast to make colors pop and depths stand back like our other amber lenses.

Eclypse™ Clear to Gray (Light Adjusting Transition)

The Eclypse™ photochromic lenses offer an accelerated, light-adjusting response time with brilliant optical clarity. Photochromic lenses darken when coming in contact with any UV light rays and adjust accordingly. 100% UVA+UVB protection.

DarkShift™ Clear to Extra Dark Gray (Light Adjusting Transition)

In and out of the house all day? Need darker transition lenses? If the answer is yes then you need our new DarkShift™ lens. A new photochromic advancement surpasses the bar set by our Eclypse™ lens and not only transitions darker but with a higher ABBE value the lens truly gives new definition to enhanced vision clarity.Light Transmission: 78% to 9% (depending on environmental conditions)