Rudy Project Lens Information
Always at the peak of technology, our lenses provide optical clarity and physical protection for the eye. Perfect for all those who participate in sports.
Solar Radiation and Eye Care: Light is an electromagnetic ray characterized by its wave length and measured in nanometers (1 nm=1/1,000,000 of a mm). The ultraviolet rays (UVA, B and C) are the most dangerous rays for our eyes. Our lenses absorb all the ultraviolet rays: the residual transmission is less that 0.001% up to the 385nm (the wave length at which the visible spectrum begins). The lens receives an application of metal ions of chrome or silicon oxide, calculated in such a way as to provide a precise absorption factor.
RP-D-Centered™: The optical axis is maintained parallel to the main axis of vision, permitting maximum utilization of lenses with extensive curvature (basis 6-8), respecting the need of optical quality and visual clarity.
Anti-Scratch Treatment: Treated by coating with polyxilosane, the lenses that is hardened by exposure to heat at 120°C. This specific treatment give it excellent resistance to abrasion and scratching.
RP Optics (Advanced Performance Lens Technology): Injected at a pressure that can reach 800 bar, the RP Optics™ lens is a afocal lens for unsurpassed visual acuity, scratch and UV protection. The optical power, astigmatism, prism, definition, and cosmetic quality of material and surface of the lens have characteristics equivalent to or better than the international regulations relative to prescription lenses.
Laser Lenses: The metal oxide "Mirror" coating in a variety of shades, transmits only 12% of the light, making these lenses ideal for very sunny days with strong reflected light (beach, snow or on the water). Polycarbonate lenses. Color of mirror is cosmetic. Laser Blue and Silver are over Smoke based lens (see below) or Flash Gold and Copper are over Brown based lens (see below) Good for: cycling, running, skiing, baseball, soccer and more. MultiLaser: multi color mirror that changes color depending on how the light is reflected off the lens (twist and see different colors). Base color smoke except on ML Orange (brown base). (mirror color cosmetic).

Smoke: This type of lens, offered in a variety of shades, transmits only 22% of the light and is ideal for moderately sunny days or winter days. Polycarbonate lenses. Good for: Biking, running, skiing, baseball, soccer and more.

Action Brown: High contrast lenses built around chromatic partitioning, they enhance color contrast and cut glare from all angles maximizing visual clarity. Transmits 22% of light. Polycarbonate lenses. Good for: Biking, running, golf, baseball, soccer and more.

Racing Red: High optical quality lenses in high definition polycarbonate treated with multi-layered coating to enhance visual depth and eliminate eye fatigue. The racing red lens family was engineered for serious athletes. 28% light transmission. Polycarbonate lenses. Good for: Cycling, running, skiing, baseball and shooting sports.

Yellow: These lenses transmit 87% of light and enhance contrast and depth. Ideal for early morning light, sunset or rainy days. Polycarbonate lenses. Good for: Pilots, shooting sports, snow enthusiasts, early morning/dusk cycling and runners.

Transparent: Lenses that transmit 92% of light. Designed for protection of the eyes from dust or other foreign bodies during sport activities indoors or at night. Excellent protection for the eyes in very cold climates. Polycarbonate lenses. Good for: Cycling or running at nigiht, indoor sports use, night skiing, hunting in low light conditions.

Orange: High contrast lens improves depth perception and blocks blue light which makes objects appear hazy. Polycarbonate lens material. Good for: Biking, running, skiing and shooting sports.

Polar 3FX: Protects your eyes from all harmful UV rays and eliminates glare by selectively filtering non harmful wavelengths through the lens. POLAR 3FX polarized technology is designed to filter glare from car headlights, sun rays and the refracted light on wet or shiny surfaces like water and snow. Plus, the all new POLAR 3FX polarized lenses features the HDR filter which is fine tuned to maximize your safety by improving contrast in urban, mountain and road bike environments. The result is bright and comfortable vision, sharper details perception and brighter colors with considerable reduction in eye fatigue. The POLAR 3FX HDR Multilaser lenses are available in a vast array of colors allowing to benefit from superior visual comfort and to choose the color which best suits your style. The HDR filter is designed to boost your color experience by tuning the wavelength of the light passing through the lens. By actively refining the intensity of various wavelenghts of light and by optimizing the visible, the HDR filter provides extraordinary visual performance. In addition to a maximized chromatic range, benefits include superior perception, sharper image and unparalleled contrast definition. This state-of-the-art coating has been developed to make Polar3FX lenses tougher and more durable. The 3FX coating is a hydrophobic barrier which minimizes the formation of smudges. This treatment is designed to enable water slipping on the surface, to prevent stains and fingerprints and to make cleaning easier.I
ImpactX Lens Technology
Since the development of CR-39 and polycarbonate over 40 years ago, there have been few advances and innovations in high impact-resistant optical polymer development. NXT® is a family of patented polyurethane optical polymers, transparent and virtually unbreakable, originally developed for the military to provide superior protection and performance. NXT was born in the USA in the early 1990's when the US Government contracted Simula Technologies to develop bullet proof, transparent, and light weight material capable of providing superior protection, reliability and longer lasting performance than polycarbonate. This material is also used in the windows in post Sept. 11 cockpit doors being installed on airplanes and Apache helicopter windshields panels; it is today available for Rudy Project Technically cool eyewear under a unique and unparalleled lens program: ImpactX. ImpactX represents today the most advanced technological solution in the field of vision protection. Thanks to their transparency and superior optical quality, lenses made in NXT ensure sharp vision and unbeatable comfort: they are made by casting, a process which ensures lower internal stress, higher optical homogeneity and mechanical stability compared to traditional polycarbonate.
Why ImpactX:
1. Guaranteed unbreakable for life: ImpactX NXT is stronger than any other lens material, guaranteed not to break or crack, even in complex rimless frames. ImpactX NXT impact resistance is higher than polycarbonate and passes all impact resistance standards.
2. Superior Optics: ImpactX NXT has lower refractive index, internal stress and chromatic dispersion than polycarbonate, resulting in sharper images, higher definition, reduces "rainbowing", and more visual comfort.
3. Superior Anti-Scratch Properties: ImpactX NXT lenses feature a superior Quartz scratch resistant antistatic coatings, which doesn't attract dust.
4. Lightweight: ImpactX NXT is 20% lighter than CR-39 and 10% lighter than polycarbonate.
5. Exclusive Semi-Rigid Platform: Tailor made ImpactX NXT formula for superior safety and unparalleled protection.
6. Cutting Edge Photochromic and Polarized Technology: Enhanced visual acuity for any climatic conditions.

Impactx2 Clear to Black: Changes from 9% to 74% light transmission. Good for road cycling and running in most conditions.
ImpactX2 Clear to Laser Black: Changes 13% to 62% light transmission. Darker than Clear to Black with mirror. Good for road cycling and running in most conditions.
ImpactX2 Clear to Red: Changes 17% to 76% light transmission. Good for mountain biking or trail running in and out of trees.
ImpactX2 Clear to Laser Red: Changes 16% to 75% light transmission. Same as Clear to Red with a mirror. Good for mountain biking and trail running in and out of trees.
ImpactX2 Clear to Laser Brown: Changes 17% to 73% light transmission. Mirrored. Good for ball sports with a white ball or other activities when you need more contrast.
ImpactX2 Clear to Laser Purple: Changes 8% to 48% light transmission. Mirrored. Developed to elevate any golfers performance. This cutting edge lens is tailored with ImpactX-2 advanced photochromic technology specifically for the golfs unique demands. Benefiting from the high quality photochromic particles and an luminous transmittance from 48% to 8% according to the external light, the brand new ImpactX-2 Laser Purple blends state of the art light management with ultra defined contrast and enhanced depth perception allowing to better gauge distance and changing surface conditions.
Rudy Project Lens Colors:

Note: Not all lens colors are available in all frames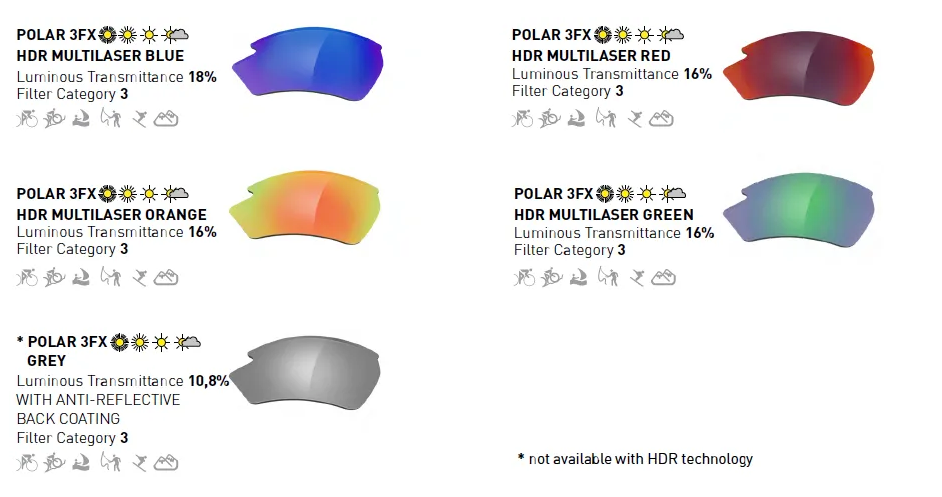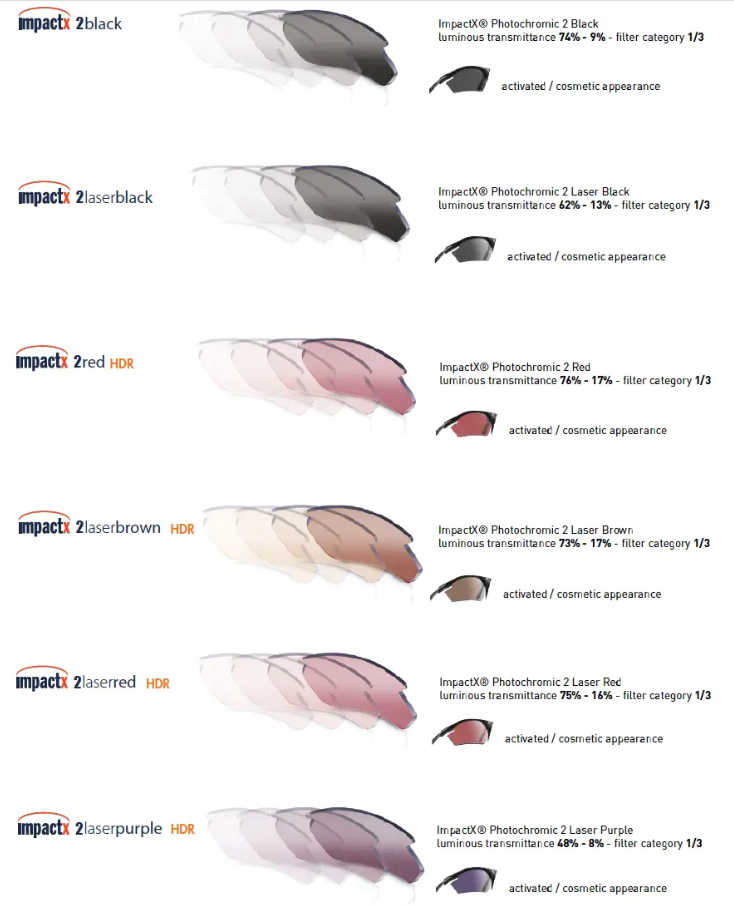 Atmospheric Controller Grid
| | | | | | | |
| --- | --- | --- | --- | --- | --- | --- |
| Lenses | Color Perception | Contrast | Acuity | Glare | Depth Perception | Lighting Condition |
| Laser Series | Reduces | Preserves | Preserves | Reduces | Preserves | High Glare, Bright Light |
| Polar 100 Series | Enhances | Enhances | Enhances | Eliminates | Enhances | High Glare, Bright Light |
| Tek Brown | Preserves | Preserves | Preserves | Reduces | Preserves | Medium Light, Intermittent Light |
| Tek Red | Preserves | Preserves | Preserves | Reduces | Preserves | Medium Light, Intermittent Light, Cloudy/Snow |
| BiTek | Preserves | Enhances | Enhances | Reduces | Preserves | Medium Light, Intermittent Light, Cloudy/Snow |
| Smoke | Preserves | Preserves | Preserves | No Effects | Preserves | Medium Light, Intermittent Light |
| Action Brown | Preserves | Enhances | Preserves | Reduces | Preserves | Medium Light, Intermittent Light, Cloudy/Snow |
| Racing Red | Preserves | Enhances | Enhances | Reduces | Enhances | Medium Light, Intermittent Light, Cloudy/Snow |
| Red | Eliminates Blue | Enhances | Enhances | Reduces | Enhances | Medium Light, Intermittent Light, Cloudy/Snow, Rain/Wind |
| Acid Green | Preserves | Preserves | no effects | Preserves | Preserves | Intermittent Light, Cloudy/Snow, Rain/Wind |
| Laser Sky | Preserves | Preserves | Preserves | no effects | Preserves | Intermittent Light, Cloudy/Snow, Rain/Wind |
| Orange | Eliminates Blue | Preserves | Preserves | no effects | Preserves | Intermittent Light, Cloudy/Snow, Rain/Wind, Fog |
| Yellow | Eliminates Blue | Enhances | Enhances | Reduces | Enhances | Cloudy/Snow, Rain/Wind, Fog |
| Laser Deg | Preserves | no effects | Preserves | Reduces | Preserves | Cloudy/Snow, Rain/Wind |
| Transparent | Preserves | no effects | Preserves | no effects | Preserves | Rain/Wind |