Spy Sunglass Lens Colors: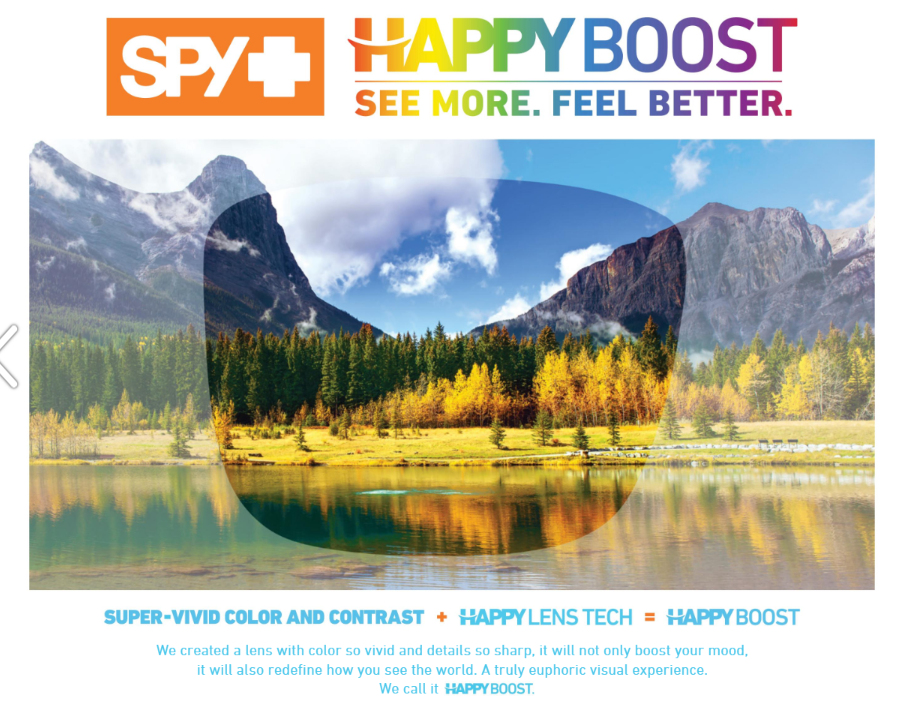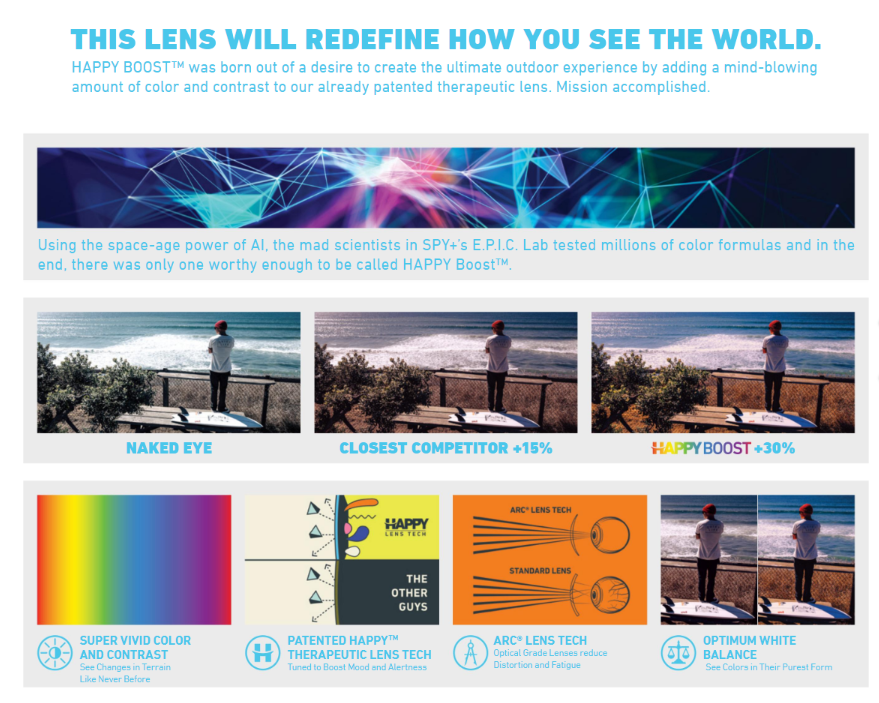 Note: not all colors available in all frames.
With Happy Lenses you can:
See better with superior color & contrast enhancement and distortion free ARC lenses.
Feel Better: Lets "good" rays in, "bad" rays stay out. Uplifts mood and alertness.
Perform better: Relaxes eyes to reduce fatigue and easily distinguish changes in the terrain.
| | | | |
| --- | --- | --- | --- |
| Lens Color Sample | Lens Name | Lighting Conditions | Description |
| | Polarized Happy Bronze | | Increases contrast and color, providing comfort in a wide range of conditions. For fishing, driving and everyday outdoor activities. |
| | Purple Spectra | Bright | |
| | Polarized Bronze Blue Spectra | Bright | Good for ocean fishing and other water activities like boating, kayaking and SUP. |
| | Red Spectra | Bright | |
| | Green Spectra | Bright | |
| | Bronze Photochromic | Varing (low to bright) | |
| | Polarized Happy Bronze Black Mirror | Bright | |
| | Gray Silver Mirror | Bright | |
| | Gray | Bright | |
| | Polarized Gray | Bright | |
| | Rose | Medium | |
| | Clear | Low | |
| | Yellow | Low | |
| | Happy Bronze Green Spectra | Bright | Good for golfing, inland fishing or any activity done on lakes, rivers or streams. |
| | Bronze | Bright | |
| | Happy Gray Green Polarized | Bright | For driving and every day activities where high contrast is needed. |
Goggle Lens Colors
| | | | | |
| --- | --- | --- | --- | --- |
| Lens Pic | Lens Color Description | Light Conditions | Filter Category | Visual Light Transmission |
| | Happy Bronze | Sunny | S3 | 15.2% |
| | Happy Bronze Blue Spectra | Sunny | S3 | 14.8% |
| | Happy Bronze Green Spectra | Sunny | S3 | 11.8% |
| | Happy Bronze Black Mirror | Sunny | S3 | 15.2% |
| | Happy Rose Blue Spectra | Cloudy | S2 | 49.5% |
| | Happy Persimmon Silver Mirror | Cloudy | S2 | 49.5% |
| | Happy Persimmon | Flat | S1 | 70.2% |
| | Bronze with Silver Mirror | Sunny | S3 | 11.7% |
| | Bronze with Gold Mirror | Sunny | S3 | 11.7% |
| | Bronze with Red Spectra | Sunny | S3 | 20.7% |
| | Bronze with Green Spectra | Sunny | S3 | 22.5% |
| | Bronze | Sunny | S3 | 25.2% |
| | Pink with Silver Mirror | Mixed Light | S2 | 29.25% |
| | Pink Contact | Mixed Light | S2 | 30.6% |
| | Pink | Mixed Light | S2 | 32.4% |
| | Blue Contact | Mixed Light | S2 | 49.5% |
| | Persimmon Contact | Mixed Light | S2 | 49.5% |
| | Yellow with Green Spectra | Flat Light | S1 | 52.2% |
| | Yellow Contact | Flat Light | S1 | 54% |
| | Persimmon | Flat Light | S1 | 53.1% |
| | Yellow | Flat Light | S1 | 70.2% |
| | Clear Contact | Night | S1 | 80% |
| | Clear | Night | S1 | 82.8% |