Spy Snow Legacy Goggle Information
With the lowest profile and widest peripheral view of any premium SPY goggle, the Legacy inherits the color, contrast and mood-enhancing Happy Lens™ and takes our Lock Steady™ quick-change lens system to the next level. This is the goggle your eyes and helmet have been waiting for.
SPY's game-changing Happy Lens for enhanced color, contrast and optical clarity
Low profile for improved fit and our widest peripheral view
Subtle notches in temples allow for seamless OTG (over the glasses) integration with RX eyeglasses
Fingerprint-free Lock Steady™ 2.0 quick change lens system lets you change lenses with the push of a button
Comes with a free premium bonus lens so you're covered in any light conditions
Streamlined frame venting creates a no-fog experience, eliminating the need for obtrusive lens vents
Fits seamlessly with today's most popular helmets
Silicone-lined strap eliminates goggle slip
Anti-fog 5.5-base ARC® spherical dual-lens with anti-scratch protection for increased optical clarity and impact protections
Sizing: A: 170 B: 90 C: 180 D: 95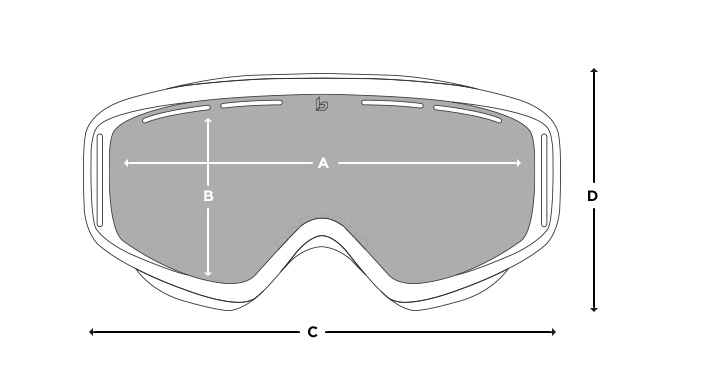 For a description of Spy technology, see Spy Snow Goggle Page. Also see "Lens Colors" tab for lens color information.
Spy Prescription Goggle Information
This frame utilizes a prescription adapter. This is a piece that carries the prescription and snaps in behind the front lens of the sunglasses. This allows higher prescription availability with the coverage of a large, wrap sunglass lens. It also creates a smaller prescription lens surface area to reduce weight and thickness of prescription lenses. Prescription range +6.00 to -8.00 total power (sphere plus cylinder). ;Most popular prescription options listed. Additional coatings can be added on prescription information page. Since insert sits behind goggle lenses, only clear lenses are recommended. Estimated processing time: 5 to 7 working days. Coatings will add a week.