Swimming in the ocean or lake on vacation or doing laps in the gym pool is healthy, fun, and a great way to spend the day. But if you wear glasses or contacts, especially if you have a high prescription, it can create challenges - glasses can't be worn in the water, contacts can get washed out or contaminated, and regular swim goggles can't help you see where you're going.

What you need are PRESCRIPTION SWIM GOGGLES to get the most out of your day at the beach or pool.
Prescription swim goggles come in two main categories: Step Diopter and Custom-made. It's important to know what they are and the difference between them to decide which is right for you.
Step Diopter (or Pre-made) prescription swim goggles
Step diopter swim goggles are a great option for the majority of prescription goggle wearers. It's the same concept as Reader glasses - there is a range of power options and you choose the one that is closest to your prescription. The goggles are generally in the $30-40 price range which is great for a prescription; however, they can't be worn by everyone. They also come in kids sizes.
Pros:
Less expensive than custom-made swim goggles
Can be purchased in stores or online
Quick Turnaround
Cons:
Goggle is pre-made (like Reading Glasses) and is NOT your exact prescription
Many pre-made goggles require that you have the same prescription in both eyes (ex. a -2.00 or a -4.50 in both eyes)
Not available for very high or complicated prescriptions
Will not work if you have an astigmatism over -1.0
Custom-made prescription swim goggles
Custom-made swim goggles are just like they sound. Each swim goggle is made in a lab to your exact prescription - including any astigmatism or prism if needed. You will see as clearly as your regular distance eyeglasses. This may not seem like a big deal for someone with a mild prescription, but for someone with a high prescription it can be a game-changer!
Pros:
Custom-made to your exact prescription
Can be made for high or complicated prescriptions including prism and astigmatism
Lenses can be made in tinted colors
Able to add anti-fog, anti-glare, and anti-scratch coatings for higher end performance
Cons:
Much more expensive than step diopter goggles
Typical lead-time is 2-3 weeks
How do I decide whether I need custom swim goggles or step-diopter goggles?
It can be confusing which option is best for you, so we recommend always evaluating the lowest cost option first and working your way to the more expensive options as needed.
Is your prescription average strength and the same in both eyes?
You could try off-the-shelf step diopter options.
Is your prescription average strength and DIFFERENT in each eye?
Some step-diopter goggles can be custom-assembled to have a different power for each eye. For instance, your right eye may need -2.50 power while your left eye may need -4.25. These will not be sold in general stores - you will need to find a specialty store or website such as sporteyes.com to order or get advice.
Is your prescription very high (over -10.00 or +8.00) and/or do you have an astigmatism?
Most likely you will need a custom goggle made for your prescription. Contact an optician for advice.
Best Step Prescription Swim Goggles
Many options exist for pre-made, step diopter and custom swim goggles. Below are some of our favorites.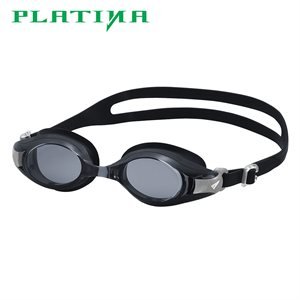 The View V-500 Platina is a Step Diopter (pre-made) swim goggle with lots of versatility. The goggle itself is available in 3 different colors - Blue, Black, and Clear - and the lenses come in a smoke tint which is great for either indoor or outdoor swimming. It can be assembled with a different prescription power in each eye, and can accommodate high nearsighted prescriptions up to -10.00 or up to +4.00 in the Adult size.
Youth size is available (View VPS-741JA is the Youth version and is available in power up to -7.00 and +5.00)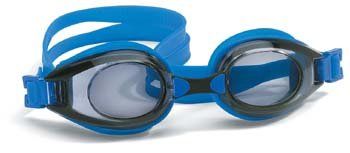 The Vantage (by Hilco) prescription swim goggles are easy to assemble and are available in Black and Blue goggle colors with smoke lenses. You can also choose different prescription strengths in each eye. These are great for high farsightedness as the power goes up to +8.00. Nearsighted vision is accommodated to -8.00.
Kids size is also available. Vantage Kids is offered in powers up to -5.00 and +8.00 and is customizable with Pink, Blue, or Black eye cups.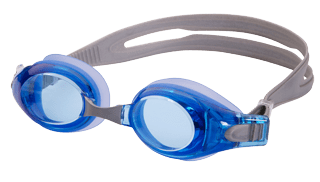 If you swim primarily indoors, the Velocity is one of the few goggles that offers a Blue tinted lens. It also offers a Smoke lens color and is available in Adult size only. The Velocity can be assembled with different power in each eye and ranges from -8.00 to +8.00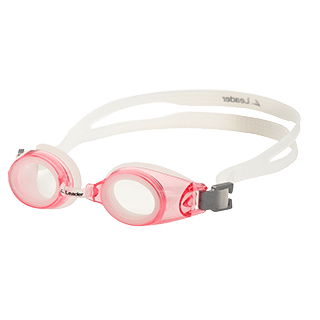 The Hilco XRX is a truly custom prescription swim goggle. Available in both Adult and Youth sizes, there's a wide range of colors including Cherry Red, Pink, and Blue in addition to the more common Black and Clear. Each goggle is made to your exact prescription (up to -16.00 or +16.00) including any astigmatism or prism. Nose bridges are adjustable/interchangable. Choose this option when you have a high or complicated prescription, or when you want to have your exact prescription and not just 'something close' like with the Step Diopter goggles.
There are so many options you can add to make these goggles truly customizable. You can add tints (clear, blue, various shades of grey or brown, or even Transitions that get lighter and darker depending on the light), anti-fog coating, anti-scratch coating, mirror coating, and can even choose polarized or non-polarized. Each option adds to the cost, but gives you the best possible goggle for your needs. Plan on at least 2-3 weeks on average to make.

Progear is another completely customizable swim goggle available in Adult and Youth sizes in multiple colors. Like the Hilco XRX, the lenses are made exactly to your prescription, and the lens options include all the choices of your regular glasses - tints, lens material, anti-fog and anti-scratch coatings, polarized, etc.
See better while swimming, competing, or playing
Whether you end up with the step diopter (pre-made) goggles or the fully custom prescription goggles, swimming is much more enjoyable when you can see what's going on around you. Being able to see the swim lanes more clearly lets you concentrate on your form while not worrying about staying in your lane. Get rid of blurry vision so you can see the timing clock during a competition, watch the fish underwater in the ocean, or enjoy the smile on your child's face at the local pool. Regardless of which type of swim goggle you go with, it will be worth it! Happy Swimming!
If you have any questions regarding which option is best for you or would like to order prescription swim goggles, visit us at Sporteyes.com - we have been in business for over 20 years and can quickly guide you through the process.