Bolle Chronoshield Sunglasses Information
Based on the iconic shape from the 80's, the revised version of the Chronoshield makes no compromises in terms of vision or comfort. Featuring Phantom lenses and ultimate frame technology.
Avalable technologies: Phantom lens, Anti-Fog treatment, adjustable temple tips, Adjustable nose pads.
Great for cycling and running sports.
Bolle Lens Color descriptions.
Eyesize: A: 143mm B: 65mm, TT: 147mm

Bolle Prescription Information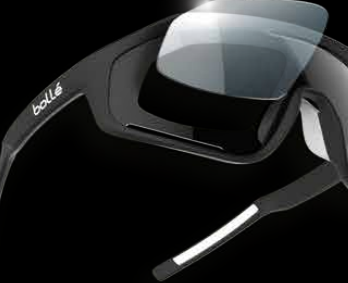 Bolle Authentic prescription lenses available. Direct in shield means there will be a cut out in the shield where the prescription will be put in. The whole lens will not be prescription. Lenses will be made with the Bolle Authentic B-Thin design. B-Thin utilizes software that can make the most advanced calculations to create a more customized lens and the ultimate in lightweight optics (Freeform Digital technology is part of this lens). An axial compensation of the prescription takes into account the size of the frame and the wearer's facial anatomy if necessary. This ensures optimum precision, comfort and frame balance for sports glasses. Available in 99% of prescriptions. B-Thin lenses are up to 72% thinner and 45% lighter than other lens technology. Available in polycarbonate and Trivex lens materials. Both are impact resistant but Trivex has slightly better optical clarity. Photochromic (light changing) lenses are only available in Trivex material. Trivex lenses also include backside AR for free. It can be added on to Polycarbonate lens material lenses. Available prescriptions +6.00 to -8.00 total power (sphere plus cylinder) with maximum of 4.00 cylinder power. Minimum PD of 64. Estimated processing time: 3 weeks.