Progear Sportshades Dash S-1281 Sunglasses Information
Interchangeable 6 Base lenses. Adjustable endtips. Internal spring hinge. Polycarbonate (PC) or NXT Trivex brand lenses.
3-Point fixing optical clip on available.
Eyesize: 69/11. Dimensions: A:69, DBL: 11
Progear Prescription Information
Multiple prescription options available. Prices shown for all options are for single vision (SV) prescription lenses only. Progressive lenses are available in store only or see our prescription information page for other options for obtaining progressive lenses.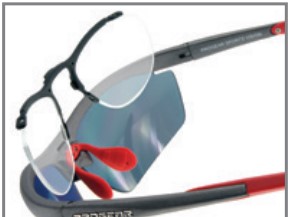 Option #1: RX insert. Maximum prescription range -7.00 to +5.00 total power (sphere plus cylinder). This is a piece that carries the prescription and snaps in behind the non-prescription lenses. This allows you to change out the front lens for various light conditions while only purchasing one pair of prescription lenses. This is the most economical way to go and is a good option for contact lens wearers who only need to occasionally insert the prescription adapter. Est. Processing time: 5 to 7 business days. Coatings add an extra week.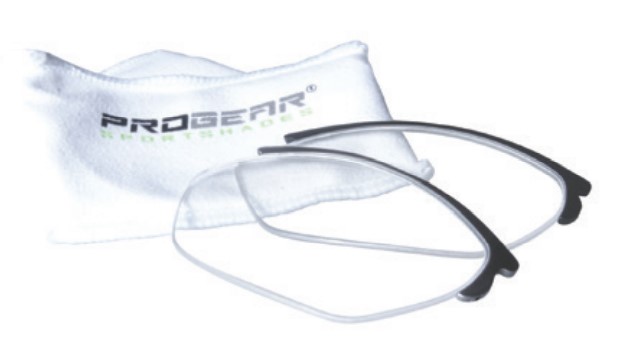 Option #2: Direct in insert is where the prescription is made just like the non-prescription lens, direct into the frame with a nylon cord holding the lenses in. Looks the same as the non-prescription version. Limited to prescriptions +3.00 to -4.00 (total power-sphere + cylinder) . If you want multiple colors for various lighting conditions, you have to buy a prescription lens in every color. But this eliminates the need for the insert. Est. Processing time: 3 weeks.