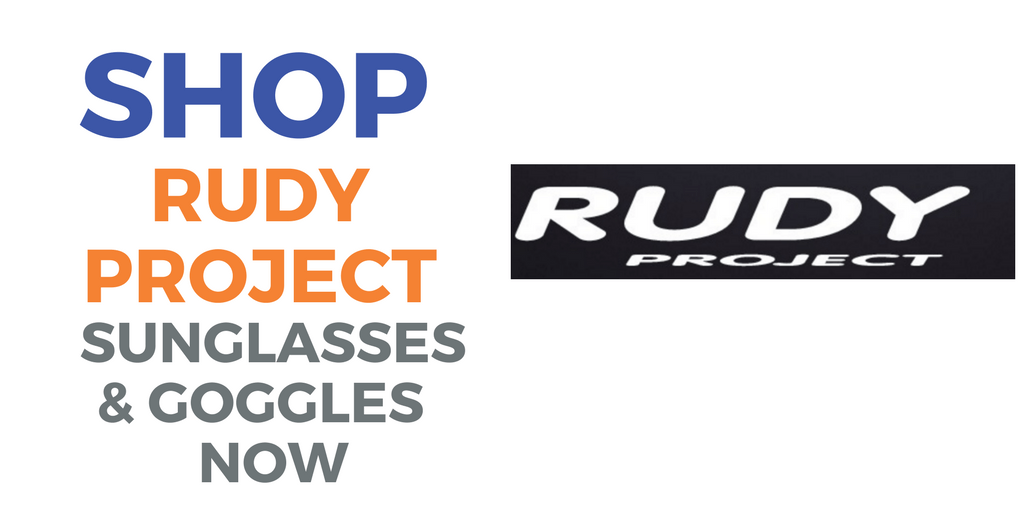 NOTE: We can only ship Rudy Project to the USA, Canada and Carribean.
Note: Rudy Project will not honor the warranty on product purchased at an unauthorized price
Table of Contents


How to Interchange a Lens Video
How to Snap in RX Insert Video
Rudy Project Technology and Warranty Information
Technology and advanced science are at the heart of Rudy Project. Our sunglasses use unique materials and manufacturing technologies to create lightweight, functional and extremely comfortable eyewear.
Total Comfort System™: Advanced lightweight materials, ergonomic designed, coupled with adjustable temples and nosepads ensure a perfect fit and total comfort. Unsurpassed "fit factors" ensure total comfort and truly sets Rudy Project apart from those other guys.
Ergonose System: A proprietary stainless steel core, conjected with a specially formulated thermo-plastic elastomer, is at the heart of this adjustable nosepiece which offers an extraordinary fit factor for any face configuration. Ensures maximum comfort, a perfect fit during any use and elimination of fogging and pinching.
360° Fully Adjustable Temple Tips: Can be adjusted in any direction by applying gentle pressure. Soft thermoplastic skins are mechanicaly mounted and thanks to the innovative T-Lock system, they can be substituted or changed for a unique custom look.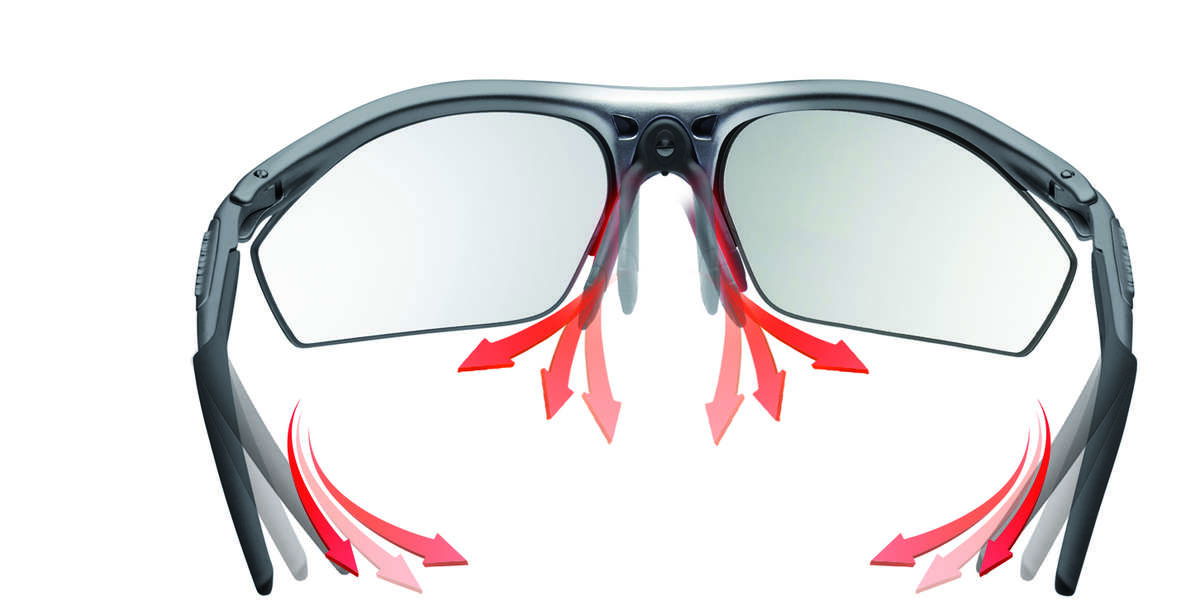 RX Project: Almost every pair of Rudy Project sunglasses are Rx-friendly. Some styles employ a revolutionary lightweight optical insert or direct in interchangeable lenses, along with it's ImpactX Photochromic technology. Rudy Project is able to offer its customers prescription sun lenses, including 8 and 9 based wrapped styles with no compromise in visual performance.
Quick Change™ Interchangeable Lenses: Rudy Project employs Quick Change technology that enables you to easily and swiftly manage any light condition. Our new platforms include Lens Lock™ & Snapper™ Systems.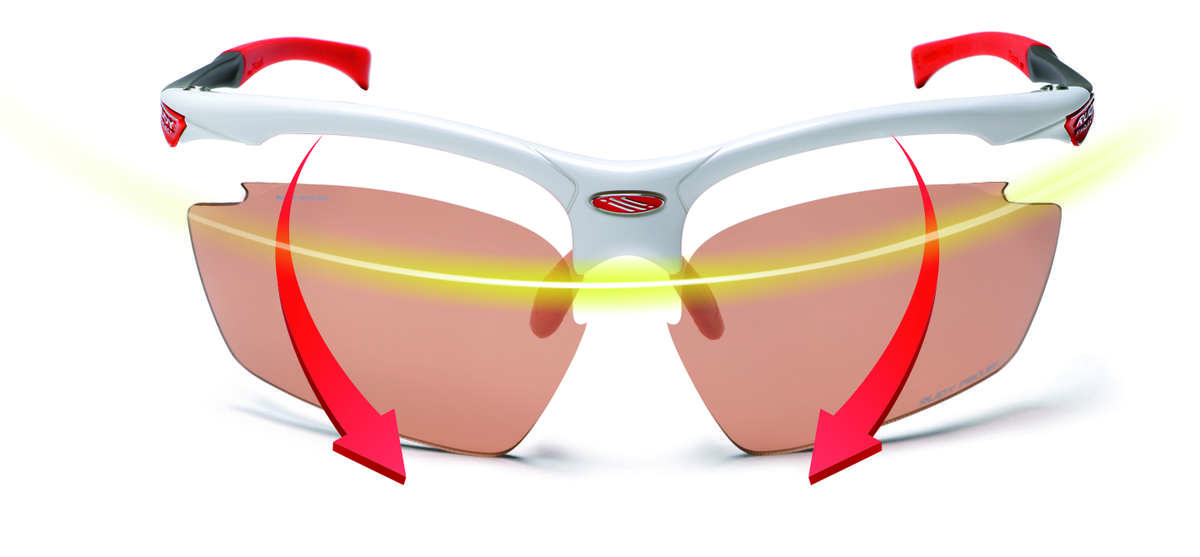 Air System: The lenses have lateral vent holes to minimize fogging and keep your eyes comfortable and at peak performance.
Integrated Air Conditioning: No more fog--crystal clear vision. Specific ventilation channels crafted on the inner side of each temple make use of the Venturi Effect, a principle of fluid dynamics which increases air velocity coming from the lenses and reduces thermal shock, thus preventing fogging. This ensures perfect vision and comfortable ventilation without disturbing vision.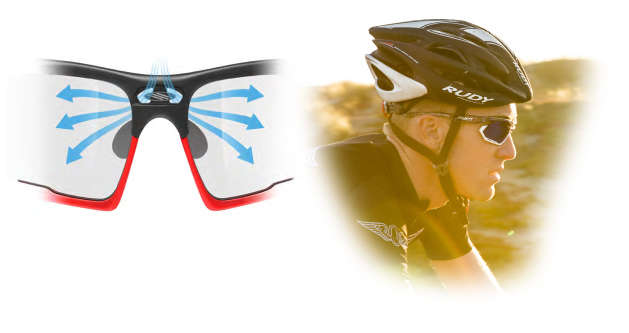 Flex Hinges: Special flex hinges ensure a perfect fit and improve comfort for most any head size. (certain styles only)
Safety Project™ : A unique Rudy Project feature that creates a fold-in-hinge without any sharp edges.
T-Lock™ : The T-Lock is simply an ingenious system that safely secures the hypo-allergic Megol temples for total non-slip comfort.
Advanced Materials: Grilamid TR 55 LX Frame: High quality thermo plastic material, is shock resistant, lightweight and non-allergenic. It is used in our advanced sunglasses because its stability and durability. Carbonium Frame: Composite plastic material mixed with advanced carbon, offers a lightweight, durable technical platform.
Ultimate Protection: All Rudy Project Sunglasses now include a Microfibre lens case/cleaning cloth and a virtually indestructible Tech Protector™ hard case. In Performance models the Tech Protector™ case includes 2 compartments for spare lenses.
No more fog, crystal clear vision: our patented Vent Controller is a simple yet practical innovation allowing air flow control coming from the lens intake to reduce thermal shock to prevent fogging, ensure perfect vision and comfortable ventilation. It can be locked easily, closing airflows in a snap.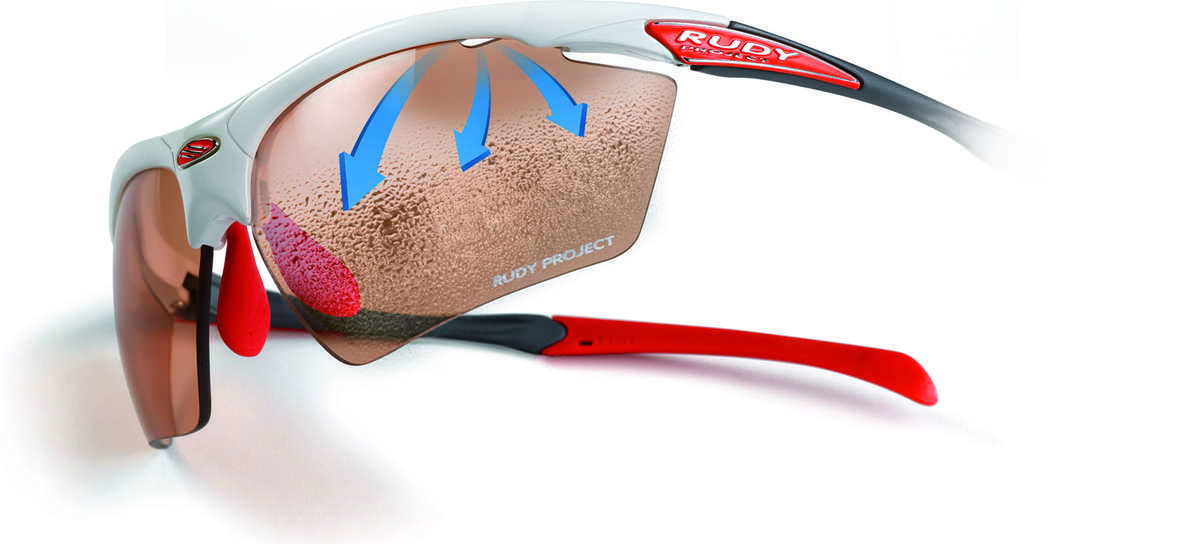 New! ImpactX lenses: Guaranteed unbreakable for life. Superior optics. Superior anti-scratch properties. Lightweight. Exclusive semi-rigid platform. Cutting edge photochromatic (light changing) and polarized technology. Read more here.
Scratched lenses suck! In fact it is the #2 complaint of sunglass wearers. Rudy Project uses RP Optics™ polycarbonate that is injected under pressure that can reach 800 bars to ensure lightweight, UV protection. The lenses also incorporate RP-D-Centered™ to minimize eye fatigue. Because the lens is so durable, we offer you the Replacement Lens Guarantee. If you ever scratch your Rudy Project lenses, for whatever reason, you can replace your lenses for a nominal shipping & handling fee for your life of your glasses. Guaranteed satisfaction and protection. Who else can say that? Go play! (prescriptions excluded) Note: Rudy Project will not honor the warranty on product purchased at an unauthorized price.
Rudy Project Prescription Information
Rudy Project offers a wide array of prescription solutions so that you can select the most appropriate product according to performance requirements and budget.
Rudy Project Rx sunglasses come with a 1 year scratch guarantee and a 3 year frame warranty.
FreeForm Tek and ImpactX Rx Technology:
The world's most advanced digital back surface lenses, fully personalized for your lifestyle. The FreeForm Sport lenses represent the latest advances in digital Free Form design at an entry level price. (polycarbonate). ImpactX RX lenses utilize the ImpactX lens material (NXT) for superior optics.
FreeForm TEK™ system is a highly engineered vision solution customized to your exact prescription and developed with leading optical laboratories using extremely sophisticated edging equipment and featuring our cutting-edge lens material ImpactRx™. Utilizes "Eyepoint Technology" that simulates the eye in every angle, prescription and field of vision taking into account various factors including: index of refraction, center thickness, prescription, distance from the eye (vertex), pantoscopic tilt of frame, pupil distance, and more. This results in the following benefits:
• Your Customized Vision, "Edge to Edge"
• Guaranteed Unbreakable For Life
• Lighter & Stronger Than Traditional Rx Lenses
• Durable ImpactRx™ Lens Material to Withstand Extreme Conditions
RX Direct Clips: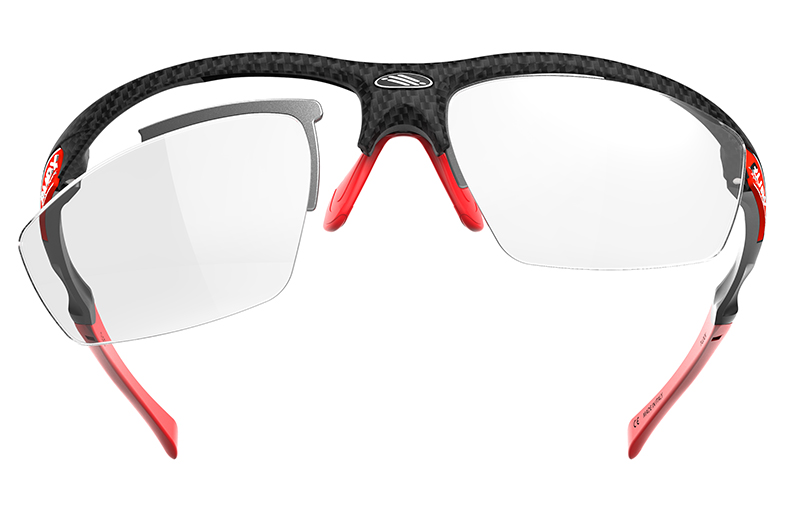 If you're a contact lens wearer but want another option and you are on a budget, this is a good option. Direct In clips allow you to fill your prescription with simple edging so you can get the lenses made with any optical lab (including A Sight for Sport Eyes lab). Since special equipment is not needed to cut lenses to these clips, you save the special edging charges needed to make the "Direct In" lenses. Thanks to a patented smart mounting system, the lenses can be removed in a snap. This solution offers you the versatility of interchangeable lenses without the high price tag. They will look similar to direct in lenses. Just a nylon cord will hold the lenses instead of being mounted with cuts in the actual lenses. This makes it less prone to breaking as well. It also expands the Rx range that can be made with the direct clips. Direct clips can be interchangeable as well. Compatible with Agon, Rydon and Stratofly models.
RX Insert: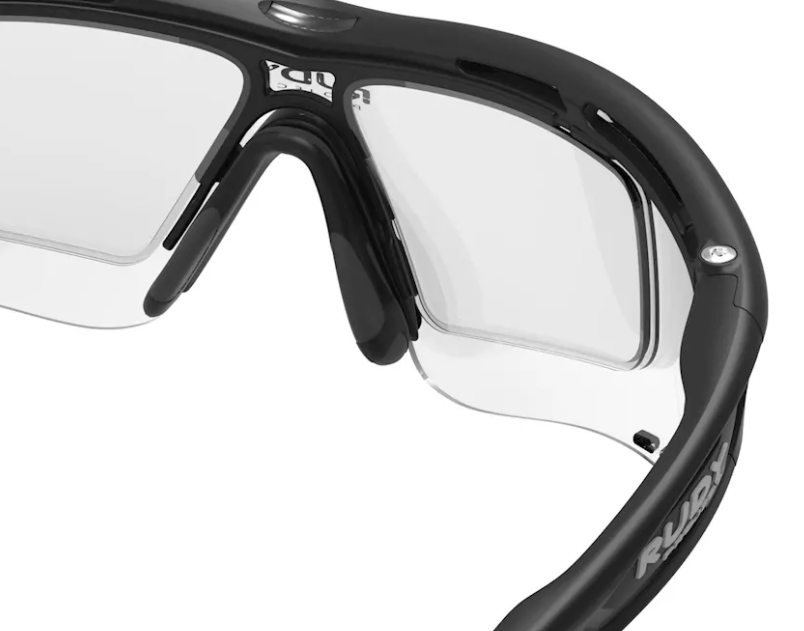 HI-TEC Sport Prescription_Optical Insert from Rudy Project on Vimeo.
Optical clips that snap in behind the non-prescription (plano) lenses. The "easy in, easy out" system enables insertion or removal of your clips with ease. This is the most economical way to have interchangeable lenses. Instead of purchasing a prescription lens in every color for swapping, you only need to purchase one prescription lenses, then change out the "plano" non prescription lenses in front of the prescription insert for varying light conditions. Inserts also can take a wider range of prescriptions, going up to -7.00 in most instances. the rimless design makes the clip less noticeable.
Optical Docks: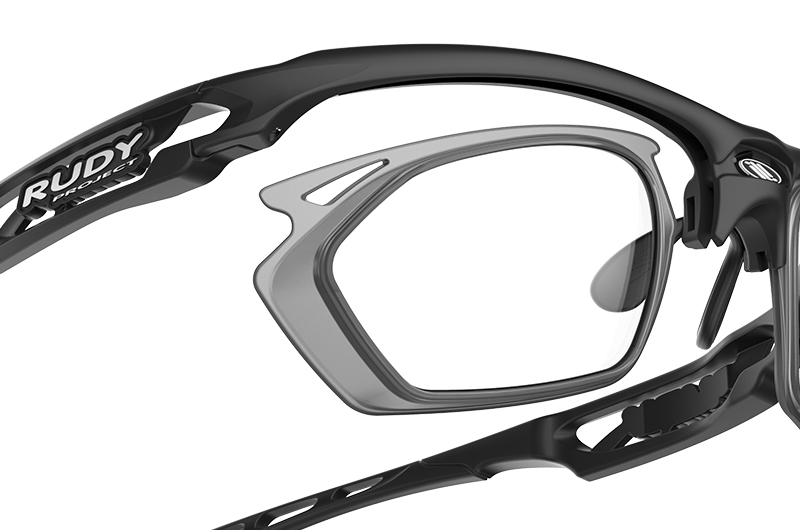 Optical Dock Family from Rudy Project on Vimeo.
Optical Dock is a full rim clip that represents a perfect solution for athletes who need substantial vision correction and want to benefit from the design, technology and comfort of Rudy Project sunglasses. Great for strong/high prescriptions. Helps reduce weight and thickness. Optical Dock #1 will give full coverage on sides but is thicker. For a sleek look, Optical Dock #2 is thinner and deeper top to bottom.
Rudy Project Lens Information
Always at the peak of technology, our lenses provide optical clarity and physical protection for the eye. Perfect for all those who participate in sports.
Solar Radiation and Eye Care: Light is an electromagnetic ray characterized by its wave length and measured in nanometers (1 nm=1/1,000,000 of a mm). The ultraviolet rays (UVA, B and C) are the most dangerous rays for our eyes. Our lenses absorb all the ultraviolet rays: the residual transmission is less that 0.001% up to the 385nm (the wave length at which the visible spectrum begins). The lens receives an application of metal ions of chrome or silicon oxide, calculated in such a way as to provide a precise absorption factor.
RP-D-Centered™: The optical axis is maintained parallel to the main axis of vision, permitting maximum utilization of lenses with extensive curvature (basis 6-8), respecting the need of optical quality and visual clarity.
Anti-Scratch Treatment: Treated by coating with polyxilosane, the lenses that is hardened by exposure to heat at 120°C. This specific treatment give it excellent resistance to abrasion and scratching.
RP Optics (Advanced Performance Lens Technology): Injected at a pressure that can reach 800 bar, the RP Optics™ lens is a afocal lens for unsurpassed visual acuity, scratch and UV protection. The optical power, astigmatism, prism, definition, and cosmetic quality of material and surface of the lens have characteristics equivalent to or better than the international regulations relative to prescription lenses.

Laser Lenses:

The metal oxide "Mirror" coating in a variety of shades, transmits only 12% of the light, making these lenses ideal for very sunny days with strong reflected light (beach, snow or on the water). Polycarbonate lenses. Color of mirror is cosmetic. Laser Blue and Silver are over Smoke based lens (see below) or Flash Gold and Copper are over Brown based lens (see below) Good for: cycling, running, skiing, baseball, soccer and more. MultiLaser: multi color mirror that changes color depending on how the light is reflected off the lens (twist and see different colors). Base color smoke except on ML Orange (brown base). (mirror color cosmetic).

Smoke: This type of lens, offered in a variety of shades, transmits only 22% of the light and is ideal for moderately sunny days or winter days. Polycarbonate lenses. Good for: Biking, running, skiing, baseball, soccer and more.

Action Brown: High contrast lenses built around chromatic partitioning, they enhance color contrast and cut glare from all angles maximizing visual clarity. Transmits 22% of light. Polycarbonate lenses. Good for: Biking, running, golf, baseball, soccer and more.

Racing Red: High optical quality lenses in high definition polycarbonate treated with multi-layered coating to enhance visual depth and eliminate eye fatigue. The racing red lens family was engineered for serious athletes. 28% light transmission. Polycarbonate lenses. Good for: Cycling, running, skiing, baseball and shooting sports.

Yellow: These lenses transmit 87% of light and enhance contrast and depth. Ideal for early morning light, sunset or rainy days. Polycarbonate lenses. Good for: Pilots, shooting sports, snow enthusiasts, early morning/dusk cycling and runners.

Transparent: Lenses that transmit 92% of light. Designed for protection of the eyes from dust or other foreign bodies during sport activities indoors or at night. Excellent protection for the eyes in very cold climates. Polycarbonate lenses. Good for: Cycling or running at nigiht, indoor sports use, night skiing, hunting in low light conditions.

Orange: High contrast lens improves depth perception and blocks blue light which makes objects appear hazy. Polycarbonate lens material. Good for: Biking, running, skiing and shooting sports.

Polar 3FX: Protects your eyes from all harmful UV rays and eliminates glare by selectively filtering non harmful wavelengths through the lens. POLAR 3FX polarized technology is designed to filter glare from car headlights, sun rays and the refracted light on wet or shiny surfaces like water and snow. Plus, the all new POLAR 3FX polarized lenses features the HDR filter which is fine tuned to maximize your safety by improving contrast in urban, mountain and road bike environments. The result is bright and comfortable vision, sharper details perception and brighter colors with considerable reduction in eye fatigue. The POLAR 3FX HDR Multilaser lenses are available in a vast array of colors allowing to benefit from superior visual comfort and to choose the color which best suits your style. The HDR filter is designed to boost your color experience by tuning the wavelength of the light passing through the lens. By actively refining the intensity of various wavelenghts of light and by optimizing the visible, the HDR filter provides extraordinary visual performance. In addition to a maximized chromatic range, benefits include superior perception, sharper image and unparalleled contrast definition. This state-of-the-art coating has been developed to make Polar3FX lenses tougher and more durable. The 3FX coating is a hydrophobic barrier which minimizes the formation of smudges. This treatment is designed to enable water slipping on the surface, to prevent stains and fingerprints and to make cleaning easier.I
ImpactX Lens Technology
Since the development of CR-39 and polycarbonate over 40 years ago, there have been few advances and innovations in high impact-resistant optical polymer development. NXT® is a family of patented polyurethane optical polymers, transparent and virtually unbreakable, originally developed for the military to provide superior protection and performance. NXT was born in the USA in the early 1990's when the US Government contracted Simula Technologies to develop bullet proof, transparent, and light weight material capable of providing superior protection, reliability and longer lasting performance than polycarbonate. This material is also used in the windows in post Sept. 11 cockpit doors being installed on airplanes and Apache helicopter windshields panels; it is today available for Rudy Project Technically cool eyewear under a unique and unparalleled lens program: ImpactX. ImpactX represents today the most advanced technological solution in the field of vision protection. Thanks to their transparency and superior optical quality, lenses made in NXT ensure sharp vision and unbeatable comfort: they are made by casting, a process which ensures lower internal stress, higher optical homogeneity and mechanical stability compared to traditional polycarbonate.
Why ImpactX:
1. Guaranteed unbreakable for life: ImpactX NXT is stronger than any other lens material, guaranteed not to break or crack, even in complex rimless frames. ImpactX NXT impact resistance is higher than polycarbonate and passes all impact resistance standards.
2. Superior Optics: ImpactX NXT has lower refractive index, internal stress and chromatic dispersion than polycarbonate, resulting in sharper images, higher definition, reduces "rainbowing", and more visual comfort.
3. Superior Anti-Scratch Properties: ImpactX NXT lenses feature a superior Quartz scratch resistant antistatic coatings, which doesn't attract dust.
4. Lightweight: ImpactX NXT is 20% lighter than CR-39 and 10% lighter than polycarbonate.
5. Exclusive Semi-Rigid Platform: Tailor made ImpactX NXT formula for superior safety and unparalleled protection.
6. Cutting Edge Photochromic and Polarized Technology: Enhanced visual acuity for any climatic conditions.

Rudy Project Lens Colors:

Note: Not all lens colors are available in all frames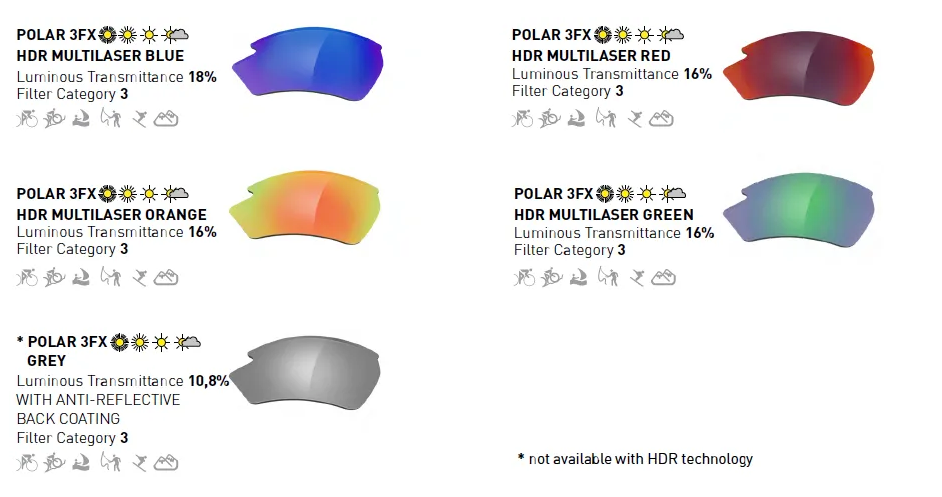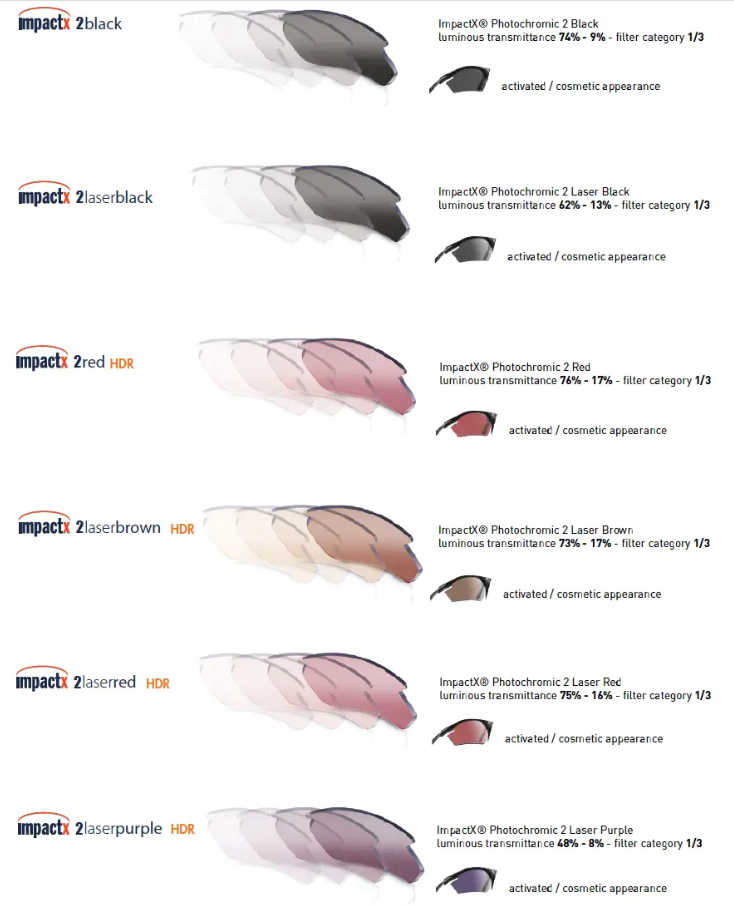 Atmospheric Controller Grid
| | | | | | | |
| --- | --- | --- | --- | --- | --- | --- |
| Lenses | Color Perception | Contrast | Acuity | Glare | Depth Perception | Lighting Condition |
| Laser Series | Reduces | Preserves | Preserves | Reduces | Preserves | High Glare, Bright Light |
| Polar 100 Series | Enhances | Enhances | Enhances | Eliminates | Enhances | High Glare, Bright Light |
| Tek Brown | Preserves | Preserves | Preserves | Reduces | Preserves | Medium Light, Intermittent Light |
| Tek Red | Preserves | Preserves | Preserves | Reduces | Preserves | Medium Light, Intermittent Light, Cloudy/Snow |
| BiTek | Preserves | Enhances | Enhances | Reduces | Preserves | Medium Light, Intermittent Light, Cloudy/Snow |
| Smoke | Preserves | Preserves | Preserves | No Effects | Preserves | Medium Light, Intermittent Light |
| Action Brown | Preserves | Enhances | Preserves | Reduces | Preserves | Medium Light, Intermittent Light, Cloudy/Snow |
| Racing Red | Preserves | Enhances | Enhances | Reduces | Enhances | Medium Light, Intermittent Light, Cloudy/Snow |
| Red | Eliminates Blue | Enhances | Enhances | Reduces | Enhances | Medium Light, Intermittent Light, Cloudy/Snow, Rain/Wind |
| Acid Green | Preserves | Preserves | no effects | Preserves | Preserves | Intermittent Light, Cloudy/Snow, Rain/Wind |
| Laser Sky | Preserves | Preserves | Preserves | no effects | Preserves | Intermittent Light, Cloudy/Snow, Rain/Wind |
| Orange | Eliminates Blue | Preserves | Preserves | no effects | Preserves | Intermittent Light, Cloudy/Snow, Rain/Wind, Fog |
| Yellow | Eliminates Blue | Enhances | Enhances | Reduces | Enhances | Cloudy/Snow, Rain/Wind, Fog |
| Laser Deg | Preserves | no effects | Preserves | Reduces | Preserves | Cloudy/Snow, Rain/Wind |
| Transparent | Preserves | no effects | Preserves | no effects | Preserves | Rain/Wind |