Rudy Project Agent Q Information
Available Summer 2021
Sculpted design, modern look and cutting edge technologies protect your eyes and expand your field of vision while providing maximum comfort. With the Quick Snap Temple Lock, you can easily change the temple configuration and mount a goggle elastic strap. Removable side shields and inner padded full face counter mask provide extra protection, while adjustable temple tips and nose pads deliver maximum adjustability and perfect custom fit. The flip change lens button allows for easy replacement of the lenses while the temple tips are designed to fit perfectly to be worn under a helmet or ear muffs. These hi-tech sunglasses are fully injected with in-mould surfaces to ensure unparalleled resistance and durability from aging, scratching, sweat and atmospheric elements.
All configurations come with Elastic Strap conversion kit and Shield Interface (foam seal)
ANSI Z87.1+ Safety certification makes products work well for PPE or other occupational uses and military/tactical applications.
Performance Kit includes 3 pairs of lenses (Hi Altitude, Transparent and Multilaser Gold) and carrying case that holds all the lenses.
Certified Category 2 meets Z87.1+ and EIN 166:2001 certifications.
Descriptions of Rudy Project Lens colors can be found here.
Eyesize: 68/17. Dimensions: A:68, B:43 DBL: 17 TL: 135
Weight: 1.38oz, 39g.



Note: Unable to ship outside the US, Canada and Caribbean.
Rudy Project warranty not honored if sold an unauthorized price. For price matching, please call or email.

Rudy Project Prescription Information
Multiple prescription options available. Prices shown for all options are for single vision (SV) prescription lenses only. Progressive lenses are available in store only or see our prescription information page for other options for obtaining progressive lenses.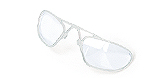 Option #1: RX insert (full rim insert). Maximum prescription range -7.00 to +4.00 total power (sphere plus cylinder). This is a piece that carries the prescription and snaps in behind the non-prescription Rudy Project lenses. This allows you to change out the front lens for various light conditions while only purchasing one pair of prescription lenses. This is the most economical way to go and is a good option for contact lens wearers who only need to occasionally insert the prescription adapter. The full rim is more solid design (less fragile). Eyesize: A: 45, B: 36. The rimless adapter is less noticeable but is held with a wire so may be more fragile. Eyesize: A=45, B=36.
Option 2: "Direct In" is where the prescription is made just like the non-prescription lens, direct into the frame. Direct in lenses feature Rudy Project's revolutionary ImpactRX™ program with Eyepoint freeform technology giving a wider field of vision and virtually eliminating distortion issues associated with wrap lenses. See Rudy Project technology page for more details. Direct in has a maximum RX range of +3.00 to -3.00 Direct In Prescription Limitations based on PD (Pupil distance) and lens materials. These are estimates. When trying to fabricate there may be additional limitations. Sphere power listed. Maximum cylinder power is 2.00.
Note: Rudy project no longer allows lenses only to be purchased. If you already have the frame, you can purchase lenses only but you will have to mail your frame in to have prescription lenses cut to your frame. If we make lenses only and the lenses don't fit your frame, there will be a charge to remake lenses to fit. See "Lens Color" tab for full lens color descriptions.
Lenses can also be made with ASFSE lab. See prescription information ordering page for more options.